Neil Lennon bomb trial hears of wires in accused's home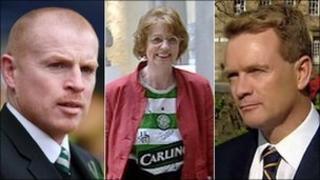 Damaged wires were found in the home of a man charged with sending a suspect package to Celtic manager Neil Lennon, a trial has heard.
The High Court in Glasgow was told the discovery was made during a search of Trevor Muirhead's property in Kilwinning, North Ayrshire, last May.
Mr Muirhead, 43, and Neil McKenzie, 42, are accused of conspiring to murder Celtic manager Neil Lennon, former MSP Trish Godman and the late Paul McBride.
Both deny the charges against them.
The court previously heard how wires were among the component parts of the suspected parcel bombs.
'Oath of Allegiance'
A series of photographs of items found in Mr Muirhead's home were shown to the jury.
These included one of a black flex which the court heard "appeared to be cut in some way" at one end.
Another wire had an adaptor with the other end also damaged.
The court had earlier been shown further items discovered, such as a certificate marked "Oath of Allegiance" signed by John Knox and William Boyne.
There were also other things including a Rangers top, a Union Jack and a flag featuring the Red Hand of Ulster.
Mr Muirhead's QC Gordon Jackson said it was clear there were people in the house of "loyalist sympathies".
Mr Jackson made the claim as he questioned scene examiner Karen Johnston.
He also put to her: "There is a bedroom of someone who is extremely supportive of the loyalist situation.
"Whoever has that bedroom has posters and items that suggest they are of a certain persuasion - the sort of thing that you might see in an Orange Walk?"
Cream peroxide
Ms Johnston replied: "Yes".
Mr Jackson also asked if any photographs had been taken of guns or explosives. The witness replied there had not.
The court later heard that a cream peroxide was also found in a black bin liner in a cupboard.
Mr Muirhead and Mr McKenzie are alleged to have planned to "assault and murder" their three intended victims between 1 March and 15 April last year.
The charge claims the pair sent another suspected bomb to the offices of Cairde na h'Eireann (Friends of Ireland) in the Gallowgate, Glasgow.
Both accused face an alternative allegation contrary to the Explosive Substances Act of "unlawfully and maliciously conspiring" to endanger life or cause serious injury.
They face a separate allegation of dispatching an item on 3 March to Mr Lennon at Celtic Park with the intention of inducing him to believe that it would "explode or ignite".
Mr Muirhead and Mr McKenzie are also alleged to have made and possessed Triacetone Triperoxide with the intent to endanger life.
Both men are further accused of threatening to plant an improvised explosive device outside a police station on 9 May while knowing that the bomb allegations were being investigated.
They are finally charged with attempting to defeat the ends of justice by disposing of a quantity of cream peroxide and wiring at a place in Ayrshire.
Mr Muirhead and Mr McKenzie deny all charges. The trial, before Lord Turnbull, continues.