Firm claims £3m Rangers cash release was 'unauthorised'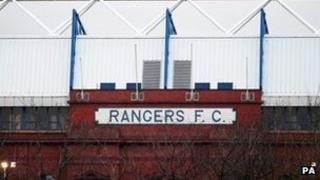 Trustees for a pension fund which was considering loaning Rangers almost £3m have claimed the cash may have been released to the club without consent.
The Jerome Group is one of five parties chasing a share of £3.6m which Rangers' administrators had seized from Craig Whyte's lawyers, Collyer Bristow.
Trustees said there may have been an "unauthorised release" of £2.9m prior to Rangers entering administration.
A court hearing over the disputed £3.6m is due to start on 30 March in London.
Rangers' administrators Duff and Phelps had the cash seized from Collyer Bristow after expecting to find more than £9m in the account.
Contested claims
The administrators claim the cash was left over from Craig Whyte's takeover of the Ibrox club and should be handed over.
However, four other parties are contesting this.
HM Revenue and Customs (HMRC) is claiming £2.8m, over alleged unpaid tax.
Loan firm Ticketus is also claiming an unspecified amount.
Another finance firm, Merchant Turnaround, of which Mr Whyte is a director, is claiming £1m.
Jerome Group plc Pension Fund claims it is owed £2.925m.
The fund is owned by the Worthington Group, which Mr Whyte has a small stake in.
Trustees for the Jerome Group said on Monday that the fund had been considering making a secured loan to Rangers of just over £2.9m.
In a statement, the trustees said: "These funds were being held to the specific order of the trustees.
"The trustees gave no authority to the club's solicitors to release the funds and the sums held until recently in the club's solicitors account.
"However, the trustees now understand that the funds may have been the subject of an unauthorised release to the club in breach of this undertaking prior to the club entering administration."
The statement said the trustees had "obtained favourable independent commercial advice" over its claim.