Council says Glasgow Citizens Advice centres will be funded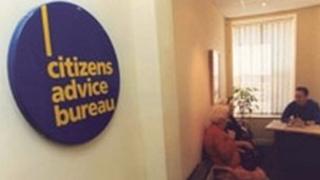 Glasgow City Council has said there is "guaranteed funding" to prevent the closure of five Citizens Advice Bureau in the city.
Citizens Advice Scotland said the Castlemilk, Pollok, Parkhead, Bridgeton and Easterhouse centres have to shut because of a funding shortfall.
Council leader Gordon Matheson said the proposed closures were unnecessary.
It comes after funding in a council-run tender process went to a consortium Glasgow Advice Agency (GAA).
After the tendering process, Citizens Advice Scotland (CAS) said it had been unable to secure work from GAA.
CAS said that the closures were a result of Glasgow City Council tendering its funding rather than awarding it directly to CAS local offices.
Expert advice
Citizens Advice said this process "effectively set charities and advice groups against each other".
CAS said it had been in discussions with GAA to try to secure sub-contracts which would allow its own offices to stay open.
It said the closures are planned for the end of the month after GAA had not offered any contracts.
A statement from CAS has insisted no "firm proposal" was on the table and that if a contract has been drawn up to give the offices a viable future they have not seen it.
CAS acting chief executive Susan McPhee said: "This is a really shocking situation, and we are deeply disappointed that the people of Glasgow will lose so much expert advice just when they need it most.
"The recession has really battered the city, and things have been made worse by the government's public spending cuts and welfare reforms.
"As a result many Glasgow families are really struggling, demand for Citizens Advice has never been higher and staff at all of these offices have never been busier."
'Standstill budget'
But Mr Matheson said: "The council has guaranteed continued funding for these centres and there is absolutely no need for a single one to close, but on my watch I will ensure that people living in those parts of our city will absolutely have access to those vital debt and money advice services."
Earlier, a CAS spokesman said an initial offer over the weekend was not good enough to keep the five offices open.
He said: "The bureaux ... are now being asked to take on more work for a standstill budget which represents a real terms cut. Even a voluntary cost-effective service like the CAB cannot do more for less.
"We are keen to talk to anyone who can help solve this problem, but the fact is that the council's current proposal does not do that.
"The way to solve the problem would be for GAA to offer the five CAB offices a viable sub-contract so we can continue to carry on our current level of service and provide the vital advice to the citizens of Glasgow."