Neil Lennon bomb trial: Celtic boss tells of 'disturbing' events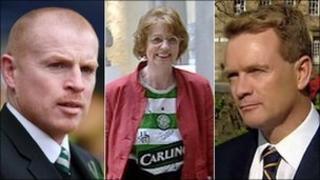 Celtic manager Neil Lennon has told a court it was "very disturbing" when he heard that suspect packages addressed to him had been intercepted.
Mr Lennon was giving evidence in the trial of two men who are accused of plotting to kill him with parcel bombs.
The football manager said he did not understand the lengths that people would go to, adding: "I have a family."
Trevor Muirhead and Neil McKenzie deny a plot to kill Mr Lennon, ex-MSP Trish Godman and the late Paul McBride.
The Celtic boss also told the High Court in Glasgow that he encountered sectarianism "nearly every week" during his footballing career.
Prosecutor Tim Niven-Smith asked Mr Lennon if he had been made aware last March of a "suspicious package" marked for his attention.
He replied: "Yes, but before March as well. There was a bullet sent in January and a bullet sent to Lennoxtown, our training ground, around November time."
The advocate depute went on: "As a football manager, how did you feel about the information police had told you?"
The Celtic manager replied: "Very disturbing. I have a family, a young son, a partner and a mother and father.
"I am a football man. I fail to comprehend the lengths some people would go to."
Phone threat
Mr Niven-Smith put to him that this had ended his international playing career for Northern Ireland.
The former Celtic captain recalled: "I was having a pre-match and I got a message to say someone had called the BBC to say that if Neil Lennon played tonight he would get hurt or shot."
Mr Lennon also spoke about Paul McBride, just 24 hours after he acted as pall bearer at the top QC's funeral.
He said Mr McBride had helped him with legal affairs at Celtic, but added: "He was my friend, first of all. A very close friend.
"I never saw him work, but I knew that he did stuff for me within the boundaries of the club.
"When we socialised we kept football and the law away from the dinner table and chewed the fat about other things."
Mr Niven-Smith: "How would you describe his personality?"
Mr Lennon replied: "Huge - just a brilliant man, very inspirational. I loved being in his company regardless of what we were doing.
"He was legally brilliant. As a person, you know, it is difficult to put into words."
He then added: "There are two people that have really inspired me. Paul McBride was one and Martin O'Neill (Mr Lennon's former manager at Celtic and Leicester) was the other."
McCoist 'altercation'
Mr Lennon also recalled "an altercation of some sort" he had with then Rangers assistant manager Ally McCoist after an Old Firm Scottish Cup tie last March.
He said the match had been "tempestuous and competitive" and "maybe a bit more" than other games between the clubs.
Earlier the court heard how one of the accused allegedly told a woman to ignore a "bang in the night" if she heard one.
Mr Muirhead, 43, was said to have made the comment to his son's partner, Ayla McCartney, the day before a suspect package was discovered.
But Ms McCartney told the court she did not remember the remark and that police told her what had been said.
The High Court in Glasgow was told of a statement which Ms McCartney gave to police last May.
In it, she speaks of the evening before a package was discovered in her street, Montgomery Terrace in Kilwinning, North Ayrshire.
Ms McCartney, 23, said Mr Muirhead and Mr McKenzie, 42, had been in her house.
She told police "Trevor" asked her what she was doing the next day and she told him she was going to Tesco's to pay her home insurance.
The statement went on: "He then asked me what way did I go down the town. I said I go down the way.
'Bang in the night'
"Trevor then said: 'Don't go to the left and if you hear a bang in the night, don't look'."
Prosecutor Tim Niven-Smith asked the witness: "Did you say that?"
She replied: "No, I did not say that. They (the police) told me who said things. I just agreed with them because I wanted out of there.
"They were the ones that had made up their minds that they had done it. They told me that Trevor did not care about his grandchildren and that was why he had done it."
The court heard Ms McCartney also claimed in the statement that they were "kinda laughing - Trevor more than Neil".
She added: "I did not know what to make of it. It was all very strange."
The jury was told that Ms McCartney said to police that the pair had left and that she had remarked: "What the bloody hell are those two on?" She also said Mr Muirhead had been "acting weird".
In her statement, she then recalled what happened when police were making door-to-door enquiries.
She added: "Although I knew what had happened and had my suspicions, I didn't know what to say, so I said nothing."
Mr Niven-Smith said to Ms McCartney: "Is it not the case that you are trying to help what is effectively your father-in-law by telling a pack of lies?" Ms McCartney replied: "No."
The prosecutor then asked: "The conversation by Trevor... you say you never heard and that police told you about it?" She replied: "Yes, I just wanted out. I wanted back to my kids."
'Orange town'
The trial also heard from Mr Muirhead's daughter, Gemma.
The 18-year-old told the court that he had been a member of the Apprentice Boys of Derry and of the Orange Order.
She agreed that he was from a loyalist Rangers-supporting background and lived in an "orange town".
The teenager also denied that she had asked her father or her brother to get peroxide for her, saying she was allergic to it.
Mr Muirhead and Mr McKenzie are alleged to have planned to "assault and murder" their three intended victims between 1 March and 15 April last year.
The charge claims the pair sent another suspected bomb to the offices of Cairde na hEireann (Friends of Ireland) in the Gallowgate, Glasgow.
Mr Muirhead and Mr McKenzie face an alternative allegation contrary to the Explosive Substances Act of "unlawfully and maliciously conspiring" to endanger life or cause serious injury.
The pair face a separate allegation of dispatching an item on 3 March to Neil Lennon at Celtic Park with the intention of inducing him to believe that it would "explode or ignite".
Both men are also accused to have made and possessed Triacetone Triperoxide with the intent to endanger life.
They are further accused on 9 May in Kilwinning of threatening to plant an improvised explosive device outside a police station knowing the bomb allegations were being investigated.
They are finally charged with attempting to defeat the ends of justice by disposing of a quantity of cream peroxide and wiring at a place in Ayrshire.
Mr Muirhead and Mr McKenzie deny all charges. The trial, before Lord Turnbull, continues.