Baby boy Euan Cameron born in air ambulance over Loch Awe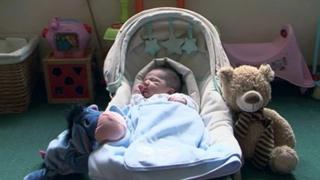 A baby boy was delivered by a paramedic and a midwife after his mother began giving birth in one of Scotland's air ambulances at the weekend.
Euan Cameron arrived mid-flight, while his mother Marion was being transported by helicopter from the Hebridean island of Mull to a hospital on the mainland.
Euan was delivered weighing 10lb 5oz at 4,000ft over Loch Awe.
Before landing on Saturday, the pilot had to inform air traffic control he had an extra person on board.
The team were congratulated by pilots from passing aircraft who heard the announcement.
Mother and baby were discharged from hospital in Oban later on Saturday and are doing fine.
Marion told BBC Scotland: "We were in the helicopter at the time, we were airborne, 4,000ft above Loch Awe when he was born.
"It was Loch Awe and it's got a grid reference, so I don't know how it will be on the birth certificate."
Chris Aitchison, the paramedic on board, said: "Everybody was very calm, and the birth was actually very quick.
"Once the baby was on the way that was it and out he came, to the rather fantastic scenery of Loch Awe and a forest I think."