Legal hitch in administration of Rangers forces court date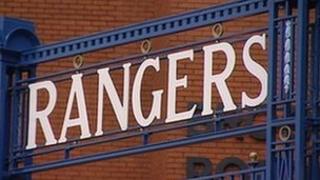 Rangers Football Club may not be in administration because of a legal technicality, it has emerged.
A hearing is to be held at the Court of Session in Edinburgh on 19 March to settle the issue.
Accountants Duff and Phelps were supposed to have been appointed administrators of Rangers Football Club plc last month.
The Financial Services Authority (FSA) was not notified, meaning administration was not legally binding.
The club returned to the Court of Session on 9 March to ask for a new order, backdated to 14 February, when Lord Hodge had originally granted administration.
He has now granted the club an interlocutor - a court order - allowing the matter to be heard in Edinburgh next week.
Creditor challenge
In the meantime Paul Clark and David Whitehouse of Duff and Phelps will act as "joint interim managers" of Rangers.
BBC Scotland understands HM Revenue and Customs (HMRC) will not use the hearing as an opportunity to challenge the way Rangers have been run in the past month, as had been suggested by an insolvency expert.
It has also emerged that Duff and Phelps are set to challenge the creditor status of finance firm Ticketus.
A two-day hearing is set to get under way at the Court of Session on Thursday.
Rangers owner Craig Whyte is understood to have mortgaged about £24m of future season ticket sales over a four year period to Ticketus.
The finance firm has since been named as a partner in the so-called Blue Knights consortium looking to take over the club.