Neil Lennon bomb trial: Packages 'were similar'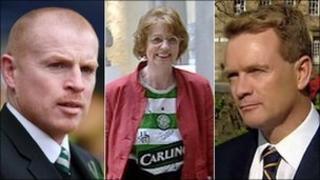 Suspect packages sent to Celtic manager Neil Lennon and former MSP Trish Godman could have been made by the same person or people, a court has heard.
A jury at the High Court in Glasgow was also told the construction of the pieces of mail was "similar".
Explosive expert Kevin Saunders examined the packages, which held items including nails and a timing device.
Trevor Muirhead and Neil McKenzie deny a plot to kill Mr Lennon, Ms Godman and the late Paul McBride QC.
'Improvised device'
Prosecutor Tim Niven Smith asked the witness whether the package intended for Mr Lennon had been made in a "similar or different way" to the one marked for Ms Godman.
Mr Saunders: "Same way, I would say."
He added: "They were both constructed with similar components in a similar way. It is possible they were constructed by the same person or group of people working to a common plan."
Mr Niven Smith: "What brought you to the impression?"
Mr Saunders replied: "They were both made to look like an Improvised Explosive Device."
Online 'recipes'
The court also heard that ingredients in an explosive said to be in the packages were "widely available".
It was further claimed "recipes" to make Tri-Acetone Tri-Peroxide (TATP) could be found on the internet.
Substances such as peroxide could be used to form TATP.
Mr Muirhead and Mr McKenzie are alleged to have planned to "assault and murder" Mr Lennon, Ms Godman and Mr McBride between 1 March and 15 April last year.
The charge claims the pair sent another suspected bomb to the offices of Cairde na h'Eireann (Friends of Ireland) in the Gallowgate, Glasgow.
Both men are also accused of having made and possessed Triacetone Triperoxide with the intent to endanger life.
Mr Muirhead and Mr McKenzie deny all charges. The trial, before Lord Turnbull, continues.