Neil Lennon bomb trial: 'Primary explosive' in Godman package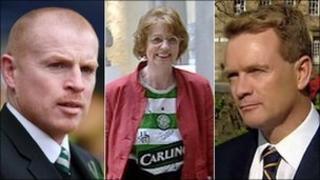 A suspicious package sent to former MSP Trish Godman contained a very small quantity of primary explosive, the Neil Lennon bomb plot trial has heard.
Explosive analyst Kevin Sanders also said packages sent to Celtic manager Mr Lennon and lawyer Paul McBride were not viable as improvised explosive devices.
He was giving evidence for a second day at the High Court in Glasgow.
Trevor Muirhead, 43, and Neil McKenzie, 42, deny a plot to kill Mr Lennon, Ms Godman and the late Mr McBride QC.
Mr Sanders, a senior forensic explosive officer, previously told the court that the packages sent to Mr Lennon and Ms Godman could have been put together by the same person or group.
Hoax device
Giving evidence on Thursday, he said that one of the packages sent to Mr Lennon contained 248 nails - substantially more than the others.
The court heard again of a package marked for Mr Lennon at Celtic Park.
It had been collected from a postbox in Saltcoats, North Ayrshire, and was later found to be a hoax device.
Mr Sanders was asked about the parcel by prosecutor Tim Niven Smith who said: "There was substantially more nails than the other packages?" Mr Sanders replied: "Yes, 248."
The court also heard inside the piece of mail was a putty-like substance.
Mr McKenzie's QC Donald Findlay asked Mr Sanders: "I am in no way under-estimating the impact of these things. But, it is difficult to imagine anyone in their sane senses would think that putty would blow up?"
Mr Sanders agreed with the QC.
Mr Muirhead and Mr McKenzie are alleged to have planned to "assault and murder" Mr Lennon, Ms Godman and Mr McBride between 1 March and 15 April last year.
The charge claims the pair sent another suspected bomb to the offices of Cairde na hÉireann (Friends of Ireland) in the Gallowgate, Glasgow.
Both men are also accused of having made and possessed Triacetone Triperoxide with the intent to endanger life.
Mr Muirhead and Mr McKenzie deny all charges. The trial, before Lord Turnbull, continues.