Neil Lennon bomb trial: Phone contained 'bomb text'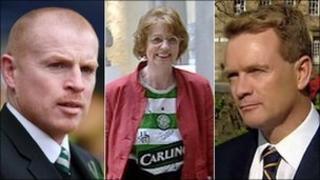 The Neil Lennon bomb plot trial has heard that a mobile phone found in the home of one of the accused contained a message referring to "our package".
The phone in Trevor Muirhead's house contained messages sent to someone called "Mac", Glasgow High Court heard.
One message sent last April said: "Our package was in Pennyburn last night waiting on navy bomb disposobal (sic)."
Mr Muirhead, 43, and Neil McKenzie, 42, deny a plot to kill Mr Lennon, Trish Godman and the late Paul McBride QC.
The jury heard how a Nokia handset was recovered from Mr Muirhead's property in Kilwinning, North Ayrshire.
A message was said to have been been sent from the phone in the early hours of 16 April last year.
Explosives team
This was the day after a suspect package intended for Mr McBride was intercepted after being collected from a postbox in Kilwinning.
The text read: "Sorry about the time m8. Our package was in Pennyburn last night waiting on navy bomb disposobal."
The trial previously heard how an explosives team had been called to examine the suspect mail marked for Mr McBride.
Mr Muirhead and Mr McKenzie are alleged to have planned to "assault and murder" Mr Lennon, Ms Godman and Mr McBride between 1 March and 15 April last year.
The charge claims the pair sent another suspected bomb to the offices of Cairde na hÉireann (Friends of Ireland) in the Gallowgate, Glasgow.
Both men are also accused of having made and possessed Triacetone Triperoxide with the intent to endanger life.
Mr Muirhead and Mr McKenzie deny all charges. The trial, before Lord Turnbull, continues.