Parcel bombs trial: Trevor Muirhead blames Neil McKenzie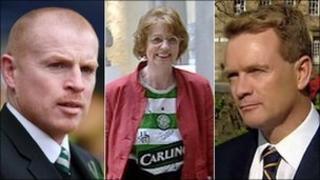 A man accused of sending parcel bombs told police his friend and co-accused sent a package to Celtic manager Neil Lennon, a court has heard.
The High Court in Glasgow heard a police interview in which Trevor Muirhead, 43, said a parcel containing nails was posted by Neil McKenzie.
He also told officers that he was terrified of 42-year-old Mr McKenzie.
Mr Muirhead and Mr McKenzie deny a plot to kill Mr Lennon, former MSP Trish Godman and the late Paul McBride QC.
On Wednesday, the court heard the remainder of Mr Muirhead's police interview after he was detained last May.
The accused was quizzed by detectives about the package marked for Mr Lennon at Celtic Park in early March last year.
He claimed it was sent by Mr McKenzie and he was also there when it was posted.
'Another fantasy'
Describing it being shown to him at the time, he goes on: "I thought it was another one of his fantasies."
Muirhead added: "I thought it was really stupid sending the guy an envelope full of nails."
Det Con David Thomson asked: "What was the reason for sending them?"
Mr Muirhead replied: "I take it that it was a hatred for Neil Lennon."
The accused also told police that Mr McKenzie was "really quite violent at times" and had "no fear".
When asked if he was scared of him he replied: "I'm not scared of the guy, I'm terrified because I've seen what he can do to people."
Det Con Thomson then asked: "How far would he take his violence?"
Mr Muirhead replied: "You'll end up in hospital and I think you would be in a plaster cast for a wee while...he's not frightened to use a hammer or a baseball bat."
Package denials
The 43-year-old was also questioned about other suspect parcels that were sent.
He said he did not know anything about the piece of mail marked for Mr Lennon at Celtic's training headquarters.
Mr Muirhead made a similar claim when asked about the one marked for Ms Godman, but said when he heard about it on the news "thought straight away about Neil".
The accused also alleged he did not see the package intended for the late Mr McBride.
He was asked about a text he sent to Mr McKenzie mentioning "our package" after that parcel was intercepted.
Mr Muirhead told the officers: "Well, I knew it was the one that Neil sent, sorry about the way I spelled it...I'm not the greatest at texting anyway."
'Unreserved apology'
The accused said he "unreservedly apologised" to the Celtic manager, but that he had "nothing to do" with Ms Godman or Mr McBride.
The jury also heard part of Mr McKenzie's police interview where he denied having a "bigoted bone in his body".
Mr McKenzie - who claimed to have been a youth coach at the former Gretna FC - said he had once been with a football team that had been involved in an anti-sectarian drive.
He told detectives that he took his son to junior football matches to get away from the Old Firm hatred.
When asked about his view on sectarianism, Mr McKenzie said it should "stop".
He insisted he had not been involved in the sending of suspect packages and said it was a "disgrace" Neil Lennon was targeted in such a way.
Mr Muirhead and Mr McKenzie are alleged to have planned to "assault and murder" the Celtic manager, the former MSP and the prominent lawyer between 1 March and 15 April last year.
The charge claims the pair sent another suspected bomb to the offices of Cairde na hEireann (Friends of Ireland) in the Gallowgate, Glasgow.
Both men are also accused of having made and possessed Triacetone Triperoxide with the intent to endanger life.
Mr Muirhead and Mr McKenzie deny all charges.
The trial, before Lord Turnbull, continues.