Rangers Ticketus risk to second Rangers bid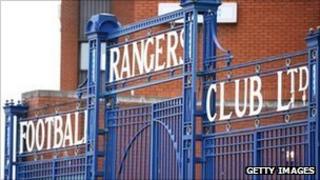 A further bid for Rangers will only proceed if it is not committed to the Ticketus deal on season ticket sales, the club's administrators have said.
Duff and Phelps have gone to the Court of Session in Edinburgh to seek guidance that could lead to a potential move to tear up the deal.
Lord Hodge has now reserved his decision in the case, and will try to give an answer by Friday.
But he said he could not give guidance on what specifically should be done.
David Sellar QC, for the administrators, earlier told Lord Hodge he might be aware through press reports that there was now either a fourth or fifth bid for the Ibrox club which had appeared in the last few days.
He said that a prerequisite for the bid was that "no future revenues of their proposal are committed to Ticketus."
Earlier in the week, Mr Sellar told the judge that one of the existing bidders had said it would not carry on if the Ticketus contract was in force.
Motive concerns
Insolvency experts Paul Clark and David Whitehouse, of Duff and Phelps, were brought in as administrators at the Scottish Premier League champions after it was faced with a £9.3m bill from Her Majesty Revenue and Customs.
It also faces a further potential £49m bill from HMRC.
Venture capitalist Craig Whyte used the £25m deal with Ticketus, involving the sale of season tickets over three years, to finance his takeover at Rangers from Sir David Murray last May, with £18m going to the Lloyds Banking Group.
Ticketus has now joined forces with one of the potential bidders for Rangers, the Blue Knights consortium of former Rangers director Paul Murray.
Ronald Clancy QC, for Ticketus, said he was concerned about the motive for seeking directions from the court at this stage while several bids were on the table which were being evaluated.