Mary Coulter 'not intended victim' of Overtown attack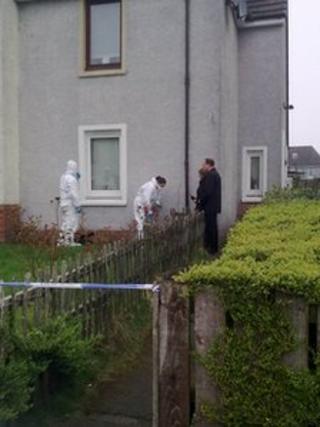 A 76-year-old woman who was subjected to an "excessive and horrific attack" in her Lanarkshire home was not the intended victim, police have said.
Four men attacked Mary Coulter at her home in Overtown, near Wishaw, at about 05:20 on Thursday.
Her son and grandson had been among three men cleared of killing Asian waiter Surjit Singh Chhokar in 1998.
Police said they did not believe there was any link between the unsolved murder and Thursday's attack.
Neighbours of Mrs Coulter said they were shocked at the savage attack on the widow, who lived alone in a ground floor flat in a cul-de-sac.
She suffered serious head injuries, cuts to her face and two broken arms.
The four men - all white and with their faces obscured - smashed down the front door and assaulted her in the hallway.
When she ran onto the street, they chased her and continued the attack.
The men ran off after the woman's neighbours were alerted to her screams.
Officers are looking at the possibility that the gang targeted the wrong address.
Detective Chief Inspector Pat Campbell said Mrs Coulter was "very much lucky to be alive" after the unprovoked attack.
He said: "We are keeping an open mind regarding the motive but what we do know is that she was not the intended victim of this attack.
"It's been a sustained horrific attack on her. It appears to be a focused, targeted attack on the address or address nearby and one of the things we are looking at is if the address is correct or is it an address within that locality, but it would appear she was not the intended victim."
He added: "What we have established at this time is that there has been an intention to injure a person or persons within that locality, whether or not the persons have got the wrong address or the wrong location is one of the lines of inquiry."
He said officers were keeping all options open and they have been unable to interview the victim.
"What we are doing, as in any police investigation, is looking at the background of the victim and that also takes us back into her family, but there is nothing at this time to suggest that the motive is to get to the family in respect of this attack," he said.
Mr Chhokar's murder in 1998, which has been dubbed "Scotland's Stephen Lawrence", sparked controversy after the failure of authorities to secure a conviction.
Three men, including Ronnie Coulter and his nephew Andrew Coulter, were cleared of the killing following separate trials.
Last month the Crown Office instructed Strathclyde Police to carry out a new investigation into Mr Chhokar's murder under double jeopardy legislation introduced last year.