Parcel bomb trial witness 'memory loss'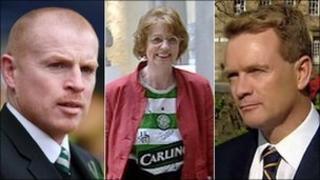 A witness in the trial of two men accused of sending parcel bombs to the Celtic manager and two others said he did not want his evidence reported.
Alastair Wardrop, 31, had met Neil McKenzie, one of the accused, when he was on remand in Barlinnie last year.
Mr Wardrop told the court he would have to go back to jail and face 100 "angry cons" who might kill him.
When pressed to recall his police statement, Mr Wardrop said he could not "seem to remember things".
Mr McKenzie and Trevor Muirhead, 43, deny a plot to kill Celtic manager Neil Lennon, former MSP Trish Godman and the late Paul McBride QC between 1 March and 15 April last year.
Fundamental feature
Mr Wardrop, who is serving a 20-month sentence for dangerous driving and driving without a licence, told the jury at the High Court in Glasgow he was a remand prisoner in Barlinnie between May and August last year and during that time met Mr McKenzie.
The witness told the prosecution lawyer he saw Mr McKenzie on a "hourly basis".
However, when pressed for more information Mr Wardrop told the court he did not want to have his evidence reported.
He said: "I am actually not wanting this reported if I'm telling what I'm telling because I'm going back to jail with 100 angry cons tonight that might actually kill me."
He added: "If it was on the telly perhaps you might not see me again."
After a legal discussion Mr Wardrop was told it was a "fundamental feature of the administration of justice" that trials were heard in public.
Judge Lord Turnbull said: "Your evidence will be required to be given in same manner as any other witness."
When asked by Advocate depute Tim Niven-Smith, prosecuting, about the discussions he had with Mr McKenzie, Mr Wardrop said: "No, I'm not going to say anything about it then. So take what you will from that."
Memory loss
After being shown a police statement that had his signature on it, he admitted he had written a letter to the procurator fiscal about Mr McKenzie and gave a statement afterwards.
The court did not hear what was said in Mr Wardrop's police statement.
The witness claimed he could not remember what he wrote in the letter or what he told police when they came to see him in prison.
He said he could not remember what he did yesterday and therefore could not remember months ago.
Mr Niven-Smith asked: "Is there any particular reason you can't remember what you did yesterday?"
Mr Wardrop answered: "I don't know, maybe I have got a malfunction with my brain or something wrong with my memory loss but I just can't seem to remember things."
Mr Muirhead and Mr McKenzie are also charged with sending another suspected bomb to the offices of Cairde na hEireann (Friends of Ireland) in the Gallowgate, Glasgow.
Both men are also accused of having made and possessed Triacetone Triperoxide with the intent to endanger life.
Mr Wardrop was the final prosecution witness in the trial.
Mr Niven-Smith closed the Crown case and dropped two charges against the accused.
They no longer face the charge of threatening to plant an Improvised Explosive Device outside a police station in Kilwinning, Ayrshire, on 9 May 2011, knowing the bomb allegations were being investigated.
The charge of attempting to defeat the ends of justice by disposing of a quantity of cream peroxide and wiring in Ayrshire was also dropped.
The trial continues.