Dogs seized in badger baiting raids in Lanarkshire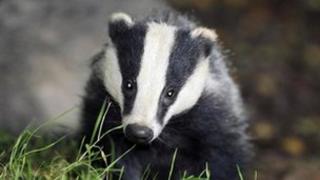 Several properties in Lanarkshire have been raided as part of a UK-wide investigation into badger baiting.
The properties were searched by the Scottish SPCA and Strathclyde Police under warrants and a number of seriously injured dogs were removed.
Monday's raids, part of Operation Meles, were the culmination of lengthy inquiries into allegations of organised badger baiting and animal fighting.
Similar raids have been conducted in Northern Ireland, England and Wales.
A spokesman for the Scottish SPCA said: "Badger baiting continues to be a clandestine activity which is extremely difficult to detect and bring perpetrators forward for prosecution.
"Cruelty and suffering in the so-called 'blood sport' often results in horrendous injuries to both badgers and dogs."
Inquiries are continuing and a report will be submitted to the procurator fiscal by the Scottish SPCA.
The animal charity urged anyone with information about badger baiting or animal fighting to contact them.