Kevin 'Gerbil' Carroll's driver tells murder trial of Asda shooting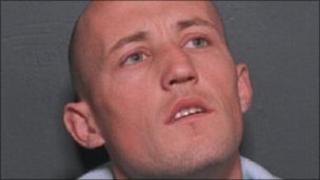 A man who was driving the car in which Glasgow gangster Kevin "Gerbil" Carroll was shot has told his murder trial how he escaped from the gunmen.
John Bonner described how he clambered out of the passenger side of the black Audi as masked men ran towards him.
He said he fell to the ground, heard about three gun shots and ran away.
Ross Monaghan, 30, denies murdering Mr Carroll at the Asda car park in Robroyston, Glasgow, in January 2010.
The trial at the High Court in Glasgow has also been hearing evidence from the duty manager of the supermarket who witnessed the shooting and made a 999 call shortly afterwards.
Mr Carroll's driver, Mr Bonner, 25, told the court he had picked up the 29-year-old and driven him to Asda in Robroyston.
He said that a Volkswagen Golf pulled up in front of them and he saw two men in masks getting out.
He said: "I tried to get out of the motor as fast as I could. Something wasn't right. I fell out of the motor. I was scared.
"I just heard the bangs and I was on the ground."
Mr Bonner said he then ran away and hid behind another vehicle until he heard the car "screeching away".
He said that, when he returned to the car, he found Mr Carroll dead in the back seat with the door locked.
The witness said he had the car keys in his hand as he jumped from the vehicle and must have accidentally locked it as he fell on the ground - locking Mr Carroll inside the car.
Mr Bonner said he subsequently dropped the keys and "someone" had returned them to him but he did not know who.
Mr Bonner said he was "gutted" when he realised that Mr Carroll had died.
He also said that he didn't know what line of business Mr Carroll was in.
Defence QC Derek Ogg said: "Mr Carroll was a major Glasgow criminal in all sorts of criminality including a major player in the drugs trade, are you the only person in the building who doesn't know that?"
Mr Bonner replied: "Must be."
The witness told the court that he had been shot 10 months earlier while sitting in the driver's seat of a VW Golf that Mr Carroll had bought for him and said police told him it was a case of mistaken identity.
He was then asked by Mr Ogg if he hadn't thought of taking up a safer occupation than hanging about with Mr Carroll "like abseiling or hang gliding".
Asda manager Steven McKenna, 46, told the trial the shooting happened about an hour after he came on duty.
He told advocate depute Iain McSporran, prosecuting, that his attention was drawn by the sound of a bang and when he looked out his office window he saw that a black Audi parked in one of the bays had been blocked in by VW Golf.
Mr McKenna told the jury: "The parked car had two males moving away at a pace, they were running. Two males from the other car were firing."
999 call
The jury heard that after the gunmen drove off the supermarket manager walked into the car park while on the phone to the emergency operator.
He added: "The passenger window of the car was almost obliterated. There was a hole the size of a football in the centre of it.
"I saw there was an adult male lying on the back seat. There was nothing I could do for him."
The jury was played the 999 tape in which a clearly distressed Mr McKenna is heard saying in reply to what's the emergency: "Shots fired in our car park."
He is then asked what sort of guns and replies: "Hand guns. We have one down in the back of the car."
Mr McKenna then approaches the two men he saw running from the Audi - Steven McLaggan and John Bonner - and they tell them the dead man is Kevin Carroll.
He is then heard being swore at as he asked what his date of birth is.
The 999 operator says just ask and Mr McKenna tells him: "I'm not going to have a conversation with them."
False plates
Mr McKenna said that he and his staff then spent time trying to calm down upset shoppers, some of whom had seen the incident.
It is alleged that while masked and acting with others, Mr Monaghan murdered Mr Carroll by repeatedly discharging loaded handguns at him, shooting him on the head and body.
Mr Monaghan is also accused, while acting with others, of attempting to defeat the ends of justice by disposing of a revolver, pistol and ammunition within undergrowth in Coatbridge and Airdrie, both North Lanarkshire.
It is also claimed a car - bearing false number plates YF55 EZZ - was set on fire.
Mr Monaghan also faces a number of firearms charges.
He denies all the charges against him and has lodged a special defence of incrimination, blaming William Paterson and seven others.
The trial, before judge Lord Brailsford, continues.