Jealous Scot Jason Downie jailed for killing Australian girl and parents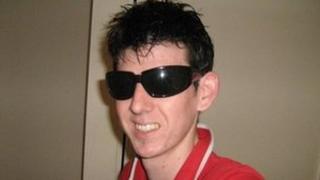 A jealous Scot who brutally murdered a teenager and her parents after she spurned his advances has been jailed in Australia for at least 35 years.
Jason Downie, 20, stabbed 16-year-old Chantelle Rowe, her father Andrew and mother Rose at their house in Kapunda, near Adelaide, in November 2010.
He admitted stabbing her more than 33 times, her father at least 29 times and her mother more than 50 times.
Downie emigrated to Australia with his mother from Kilmarnock in 2006.
The South Australian Supreme Court heard that Downie, who was 18 at the time of the murders, had fantasised about Chantelle and became jealous of his friend who was dating her.
Sexual obsession
His sexual obsession with the teenager led him to enter her family home and brutally kill her and her family.
Downie's lawyer Greg Mead said his client did not remember everything that happened after he broke through a bathroom window into the family's home in Kapunda.
But the court did not accept Downie's claim that he did not break in intending murder.
Jailing him, Justice Sulan said: "The cold-blooded, merciless attack upon Chantelle - who was hiding under the bed in fear and who you dragged out, stabbed, sexually assaulted and then stabbed again and murdered - was a chilling act."
He had an unrequited sexual obsession with Chantelle and went there to have sex, the judge said.
Justice Sulan added: "The circumstances of what occurred are chilling and they are all the more chilling because you do not exhibit any of the criminological characteristics of many people who come before these courts."
Outside court, Chantelle's brother Christopher, who was on holiday in Queensland when his family was murdered, was too upset to speak.
His cousin, Kylie Duffield, read a statement on his behalf that said he would slowly try to find a way to survive the tragedy.
Det Supt Grant Moyle said no sentence could account adequately for the viciousness of Downie's crimes.
He said investigators and the person who found the bodies would have nightmares for a long time.
Australia's director of public prosecutions Stephen Pallaras said he hoped the sentence would be the beginning of a long road of mourning and healing for the family, their friends and the town of Kapunda.