Man named in Kevin 'Gerbil' Carroll murder trial 'is in Spain'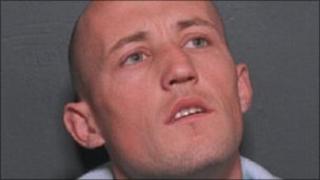 The Kevin 'Gerbil' Carroll murder trial has heard that one of the men alleged by the accused to be involved in the gangland figure's death is in Spain.
Karen O'Donnell, 40, from Cumbernauld, told the High Court in Glasgow her cousin William Paterson said he was going to Spain in December 2009.
Mr Paterson is one of eight people accused by Ross Monaghan of involvement in Mr Carroll's death in January 2010.
Mr Monaghan, 30, denies murder in the Asda car park in Robroyston, Glasgow.
He has lodged a special defence of incrimination against eight men, including Mr Paterson.
Frequent visitor
Advocate depute Iain McSporran, prosecuting, asked Mrs O'Donnell when she last saw Mr Paterson, who she knows as Billy.
She told the jury it had been a week after her son's engagement party, which took place after the shooting of Mr Carroll.
Mrs O'Donnell said Mr Paterson was a frequent visitor to her home and often phoned and texted her.
Mr McSporran asked if she knew where he was, to which Mrs O'Donnell replied: "I believe he's in Spain to work in bars."
She said he had told the family he was going to Spain in December 2009.
Mrs O'Donnell was asked if Mr Paterson had ever gone abroad before, and replied that he had gone to Australia for a year in 2002.
Murder charge
The prosecutor asked if it was "obvious" that Mr Paterson had "fled the country to stay away for as long as possible".
Mrs O'Donnell replied: "No, not in my opinion."
She said she did not know when Mr Patterson was expected to return, and said she was aware that police were looking for him in connection with a charge of murder.
The court later heard from Mr Monaghan's partner, Jade McLaughlan.
The 26-year-old graduate, who is training to be a teacher, told the court that she was pregnant at the time Mr Monaghan was arrested.
She said that they were in bed in Mr Monaghan's home in Penilee, Glasgow, on 30 July last year when they were wakened by the sound of shouting.
Ms McLaughlan said: "We were both in bed and got wakened up with police shouting Ross's name. They shouted for Ross to come downstairs."
The court was told she was allowed to take some clothes down for Mr Monaghan to wear and was then told to go back upstairs.
Ms McLaughlan said she got dressed and was taken to an unmarked police car where she remained for 45 minutes while a search of the house was carried out by 15 armed police officers.
She said: "I had no idea why they had arrested Ross. They explained I was there because firearms officers were carrying out a search of the property.
'Very weird'
"They then said they would have to leave as they didn't have the correct warrant. At 9.30am they came back with another warrant and read it to me. I've played it over in my mind a number of times. It was very weird."
The court heard that police told Ms McLaughlan, who has a rare condition called PXE which can affect the heart, that it would be better if she was not in the house while it was searched.
Ms McLaughlan was asked if she had been aware of the murder of Mr Carroll in January 2010 and replied: "No, nothing whatsoever."
Mr McSporran then asked: "Did you pay much heed to the news," and she replied: "To be honest no."
She was then shown a black Stone Island waterproof bomber jacket seized from the house and said it belonged to Mr Monaghan.
Defence QC Derek Ogg said that witnesses had identified clothing worn by the gunmen as being a thigh-length canvas jacket or a fleece or a puffa jacket and asked Ms McLaughlin if the bomber jacket could be described in this way and she said: "No."
The jury was told that 15 firearms police and eight detectives were in the house and none of them was wearing gloves, masks or forensic white overalls.
She was asked by Mr Ogg if the day of the shooting - 13 January 2010 - had any significance for her and she replied: "That day has just got no significance for me."
Nothing unusual
Ms McLaughlan said that she had noticed nothing unusual about Mr Monaghan from the middle of January to February 2010.
It is alleged that while masked and acting with others, Mr Monaghan murdered 29-year-old Mr Carroll by repeatedly discharging loaded handguns at him, shooting him on the head and body.
Mr Monaghan is accused of - while acting with others - attempting to defeat the ends of justice by disposing of a revolver, pistol and ammunition within undergrowth in Coatbridge and Airdrie, both North Lanarkshire.
It is also claimed a car - bearing false number plates YF 55 EZZ - was set on fire.
Mr Monaghan also faces a number of firearms charges.
He denies all the charges against him and has lodged a special defence of incrimination against eight people.
The trial, before judge Lord Brailsford, continues.