Mahle workers in Kilmarnock begin industrial action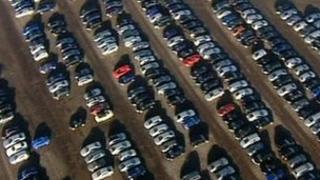 Workers at an engineering firm in East Ayrshire have begun the first of three periods of strike action over what they claim is a threat to 260 jobs.
Members of the Unite union at Mahle Engine Systems in Kilmarnock claim the company wants to offshore manufacturing posts to Italy and Slovakia.
The German auto giant, which employs more than 500 people at the site, had initially said 72 jobs were at risk.
The three periods of strike action end on Sunday morning.
Last October the company announced it would have to cut 61 jobs after it lost a contract with Ford worth an estimated £4m a year.
Manufacturing threat
Mahle said it would phase out its relationship with the car giant by 2012/13.
Workers at the plant were then told in November that a further 72 jobs were under threat over plans to transfer some production to other sites in Europe.
The Unite union claims that offshoring of jobs could endanger manufacturing at the Kilmarnock site and threaten up to 260 jobs.
Last month, union members voted in favour of industrial action over the issue.
Unite agreed to a legal extension to postpone strike action, allowing further talks to take place.
The union said, however, that further proposals from management had been rejected in a consultative ballot of members last week.
Since management had not returned with further proposals, Unite said it had been left with no other option.
The union's regional industrial officer Jim Winter said: "This strike action is the culmination of nearly a year of stonewalling by Mahle on the future of this world-class manufacturing plant.
"We asked for assurances that the plant could tender in a fair and time-bound manner for new work - this was road-blocked.
"We asked for decent redundancy payments for workers employed on contracts that Mahle refused to negotiate on - this was refused."
Mr Winter said management at Mahle were "simply not prepared to give Kilmarnock a fair chance to fight for its future".
He added: "The Ayrshire economy simply cannot sustain any more pain so we'll fight to defend skills and livelihoods."
A spokeswoman for Mahle said the firm did not want to comment on the strike action as negotiations were still ongoing.
The three periods of strike action will take place between 06:00 on Tuesday and 07:30 on Wednesday; 06:00 on Thursday and 07:30 on Friday; and 06:45 on Saturday and 06:45 on Sunday.