Murray company MHL to hand over Rangers takeover papers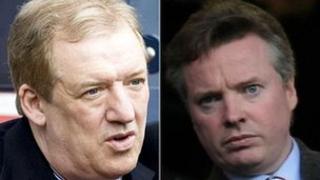 Sir David Murray's company MHL is to hand over copies of its correspondence with Craig Whyte's lawyers, Collyer Bristow, over the sale of Rangers.
Rangers' administrators Duff and Phelps won an order at the Court of Session giving them access to the papers.
Duff and Phelps said the documents were vital to an investigation into the takeover of Rangers by Mr Whyte.
The administrators are suing Collyer Bristow for about £25m over the firm's handling of the takeover in May 2011.
Duff and Phelps returned to the Court of Session in Edinburgh to secure the order for the recovery of documentation from Murray MHL under insolvency legislation.
Confidentiality clauses
Their counsel Susan Ower told Lord Hodge: "These documents which the administrators seek to recover are sought to facilitate the administrators' investigation into the circumstances of the takeover of the company."
The material sought included all letters, faxes, filenotes and emails between the Murray firm, of Charlotte Square, Edinburgh, and English solicitors Collyer Bristow.
The London-based law firm are now being sued by the administrators at the High Court in London, relating to the sale of 85.3% of the share capital in Rangers to Mr Whyte's firm.
Ms Ower said lawyers had written to the Murray company, which had said it had no objection to providing documents but was concerned over confidentiality clauses. Therefore, a court order was being sought.
Controlling shares
She said Mr Whyte had also been informed by email about the move.
Lord Hodge asked if there had been any response from Mr Whyte or others who had been informed, but was told by Ms Ower: "None at all."
The judge said: "It is clear that, speaking loosely, the vendors at Rangers, whose solicitors have the documents, are content that the order be made, but need a court order because of the terms of the share purchase agreement."
Lord Hodge said he was prepared to grant the order after a brief hearing at which only the administrators were legally represented.
Mr Whyte bought the controlling shares in the Ibrox club for £1 before it was plunged into administration in February.