Strathclyde Police warn of action over threats to SFA panel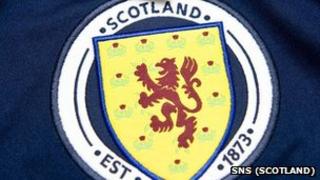 Police have warned that they will take action against people who make threats to the Scottish FA panel members who handed out punishments to Rangers.
The three-man panel was targeted after the Ibrox club was handed a 12-month transfer ban for breaching SFA rules.
Strathclyde Police said it could be a criminal offence to send offensive or threatening messages via social media.
Rangers manager Ally McCoist, who wanted the anonymous SFA panel named, said he was disgusted by the threats.
Strathclyde Police Assistant Chief Constable Bernard Higgins said: "There has been a huge amount of media reporting today about the ongoing situation at Rangers Football Club and the decision taken by the Scottish FA's judicial panel.
'Totally unacceptable'
"I can confirm that we are investigating allegations of threats and it would, therefore, be inappropriate for me to comment in detail.
"However, what is clear is that we are still seeing far too many people using the internet and social media to issue offensive or threatening messages to people. This is totally unacceptable and, in many cases, a criminal offence."
Assistant Chief Cononstable Bernard Higgins said people could not use social media to "make threats or offensive comments about people without there being consequences".
"The overwhelming majority of people in Scotland are totally appalled by the types of comments that we, sadly, are continuing to see," he said.
"They expect the police to take action. My message today is be assured that's exactly what we will do."
Rangers were hit with a 12-month transfer embargo on players over 18, while owner Craig Whyte has been banned for life from any involvement in Scottish football.
The club, which is in administration, was also fined £160,000 after it was found guilty of five rule breaches.
The club's administrators Duff and Phelps said the penalties were "prejudicing the survival" of Rangers and they intend to appeal against the decision.
Rangers fans groups were incensed by the ruling, which manager Ally McCoist claimed could "kill" the club.
In the immediate aftermath of the sanctions, Mr McCoist called for the anonymous panel to be named.
'Threatening communication'
He said: "Who are these people? I want to know who these people are.
"I'm a Rangers supporter and the Rangers supporters and the Scottish public deserve to know who these people are, people who are working for the SFA.
"Make no mistake about it, this is an SFA decision. They have appointed the panel so therefore they are working for the SFA, but who are they?"
The names of the panel members appeared on internet sites on Wednesday. The SFA later confirmed the trio had received "abusive and threatening communication", as had directors of the governing body.
The SFA said police had given security advice to those affected.
On Thursday, Mr McCoist said that while he wanted "full transparency" over the decision to punish Rangers he would "not for one moment want anyone to interpret my remarks as a signal to engage in any form of threatening behaviour".
"Such activity disgusts me and anyone who engages in it does Rangers Football Club nothing but harm," he said.
"No Rangers supporter should get themselves involved in it - not now nor at any time."
Sports Minister Shona Robison also condemned those behind the threats.
She told BBC Scotland: "The threats and intimidation to people on the SFA panel is despicable and they are rightly being condemned by Rangers and others.
''Such behaviour is as far from what football should be about as you can get.''