Colin McFarlane jailed for killing Mark Gallagher in revenge pact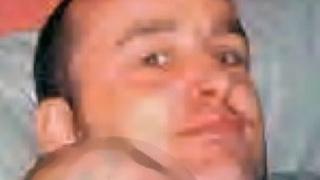 A man has been jailed for 10 years for killing another man who agreed to be stabbed as part of a revenge pact.
Colin McFarlane, 49, struck the deal with victim Mark Gallagher, 37, who had previously stabbed McFarlane's son.
The High Court in Glasgow heard Mr Gallagher bled to death after making an appointment to be stabbed by McFarlane in Alexandria on 15 January.
McFarlane pled guilty to culpable homicide stabbing Mr Gallagher twice, severing a major vein and artery.
The court was told Mr Gallagher, from Alexandria, had appeared in court last November, charged with assaulting McFarlane's son Kieran Frize to his severe injury.
In the weeks leading up to the killing, McFarlane repeatedly contacted Mr Gallagher threatening revenge over the attack on his son.
An agreement was reached between the two that Mr Gallagher would allow McFarlane to stab him.
Revenge attack
In return McFarlane would not identify him in court as the man who had stabbed his son.
Mr Gallagher arranged to meet McFarlane, from Tullichewan, behind the pavilion at Argyll Park, Alexandria, West Dunbartonshire, at 16:00 on 15 January.
Father-of-two Mr Gallagher was said to be anxious and terrified, but told his girlfriend: "I'll just get a wee stab and that will be that."
Judge Lord Turnbull described the attack as "callous and most vicious" resulting in two stab wounds to the depth of 14cm.
The judge said: "What you did has not only ended the life of Mr Gallagher, but has affected forever the lives of those who are close to him.
"You decided to take revenge for what you understood happened to your son - you demanded that he submit to being stabbed by you."