Getaway drink-driver James Carrick jailed over Ryan Bell's death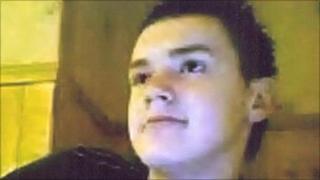 A teenage drink-driver who killed his friend after crashing while trying to get away from a police car has been jailed for four years and eight months.
James Carrick, 18, was almost twice the legal limit, when he smashed into a parked car, a fence and a wall in Drumchapel, Glasgow, on 20 March 2011.
Ryan Bell, 15, died at the scene. Carrick and two teenage girls, who were also passengers, were injured.
Carrick, who admitted the offence, was also given a 10-year driving ban.
At a previous hearing at the High Court in Glasgow, Carrick admitted causing death by dangerous driving by driving at speed and while over the drink-drive limit.
Buckfast bottle
The offences happened in Drumry Road, Drumry Road East and Drumtreath Avenue, all Drumchapel.
The court heard that Carrick had been driving around in his red Peugeot 107 with Ryan and two 15-year-old girls, who cannot be named for legal reasons.
Ryan's mother had dialled 999 at 02:00 on 20 March to say she had just seen her son and the girls getting into the car.
She told the police operator the driver had a bottle of Buckfast and said she was concerned.
The court heard that Carrick was seen driving at speed and almost collided with a stationary taxi.
Sparks were also seen coming from the undercarriage of his car as he drove over speed bumps.
Minutes later a police car put on its blue lights and signalled him to pull over.
However, Carrick instead drove off at speed, went through a red light and crashed into a stationary car, causing his car to flip in mid-air.
The court was told that Ryan died at the scene from horrific head injuries.
'I'm an idiot'
Carrick was also injured along with both girls. One of them suffered brain injury which may affect her chances of holding down a job.
After the crash, Carrick, from Knightswood, Glasgow, told police: "What have I done, I'm an idiot."
Officers could smell alcohol on his breath and he added: "I'll admit it all. I was steaming, I was drink-driving."
Carrick added that no-one in the car was wearing a seat belt at the time of the crash.
The court heard that because the police had been pursuing Carrick at the time of the crash, an independent investigation was mounted by Lothian and Borders Police.
This concluded that the police car was never any closer than 15 to 20 lengths behind Carrick and no blame was attributed to the police driver.
Jailing Carrick at the High Court in Edinburgh, judge Lord Woolman told him: "You were seen getting into the car with a bottle of Buckfast wine. You knew you were engaging in criminal behaviour.
"No sentence could ever reconcile those affected by this incident to their loss.
"A custodial sentence is the only appropriate disposal open to this court. In light of your early plea, I will sentence you to four years and eight months in prison."