Tommy Sheridan perjury conviction 'unsafe', claims MP Tom Watson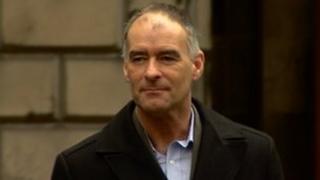 Former MSP Tommy Sheridan was wrongly convicted of committing perjury during his defamation action against the News of the World, a Labour MP has claimed.
Tom Watson, a member of the committee probing phone-hacking, said the jury had not been "in full possession of the facts" and the judgment was "unsound".
Mr Sheridan was awarded £200,000 in damages after winning his defamation case against the newspaper in 2006.
He was later jailed for three years for committing perjury during that case.
The former Scottish Socialist Party leader told BBC Scotland the report on phone hacking by MPs on the culture committee at Westminster proved that News Corporation boss Rupert Murdoch was "unfit to run a fish and chip shop".
Mr Sheridan was released in January this year after serving just over 12 months of his sentence.
The 48-year-old has always maintained his innocence and plans to appeal against his conviction.
News Group, which owned the now defunct News of the World, has challenged the £200,000 damages award to Mr Sheridan.
That action was put on hold during the former MSP's perjury trial. It has since been postponed again pending an investigation by Strathclyde Police into phone hacking and other alleged illegal practices at the News of the World and firms owned by Rupert Murdoch.
The culture committee, of which Mr Watson is a member, issued its report into the affair on Tuesday.
The cross-party group concluded that Rupert Murdoch "is not a fit person to exercise the stewardship of a major international company".
The committee was split six to four on its report, with Conservative members refusing to endorse it and branding it "partisan".
Speaking after the publication of the report, Mr Watson said matters which had emerged during the committee's investigation had cast doubt on Sheridan's conviction.
Mr Watson said: "Former member of the Scottish Parliament, Tommy Sheridan, lost his liberty on a majority verdict of a jury not in full possession of the facts.
"He received a three year prison sentence - I believe the judgement is unsound.
"If Rupert Murdoch really is sorry then he will order an urgent review of the information his company provided to the jury in the Sheridan case."
Mr Watson added: "Now that we know that the former first minister of Scotland (Jack McConnell) was also a target of hacking, I am writing to Alex Salmond recommending that he set up an inquiry by the Scottish Parliament into how and why MSPs were targeted."
Reacting to the culture committee's report, Mr Sheridan said it was clear that his perjury conviction was unsafe as it was based on "evidence that was untrue and evidence that was not complete".
"News International failed to deliver the information which they were asked to deliver to a court of law in Glasgow," he said.
Mr Sheridan claimed he has been briefed regularly by Strathclyde Police on Operation Rubicon, which is investigating allegations of phone hacking, breach of data protection and perjury.
He said: "There will be a report in future and there may even be court cases in the future.
"I don't want to say too much. What I do want to say is that this report has found the Murdochs unfit to run a fish and chip shop never mind run a big media organisation."
On calls for a Holyrood hacking inquiry, the former MSP said: "About three years ago, I called for the Scottish Parliament to investigate phone hacking of members of the Scottish Parliament because I said three years ago that my phone was hacked.
"I said three years ago that a listening device was found in my car. A lot of people said I was off my head and that I was making it up.
"They're not saying that now because the truth is beginning to come out."
On his conviction, Mr Sheridan added: "A jury took a very narrow decision, by eight votes to six, to find me guilty of a crime that I know I'm not guilty of.
"They were misinformed. They were misled. I think they were deliberately misled. That may be for a jury in the future to decide. The fact is the conviction against me is unsafe."
In response, Mr Salmond said: "In terms of the suggestion of a separate Scottish inquiry, the Scottish justice system does not need any lectures from Tom Watson, who seems unaware of the fact that the Leveson Inquiry includes Scotland within its remit, and the fact that a Strathclyde Police special unit are currently investigating allegations of criminality in Scotland.
"That investigation will proceed wherever the evidence leads, without fear or favour, to ensure Scottish citizens are afforded the proper protection of the criminal law. And in Scotland, I am confident the criminal law will be upheld."
The first minister added: "In terms of Mr Watson's comments on the Tommy Sheridan case, the Scottish judicial system is perfectly capable of dealing with these matters in the proper way and will do so on the basis of evidence, not opinion.
"It is open to Mr Sheridan's legal representatives to make an application through the Scottish Criminal Cases Review Commission, and I am sure they are well aware of their rights in these matters.
"These are the processes of Scots Law which will be followed, and whatever happens elsewhere the criminal law of Scotland will be upheld."