Hazeldene appeals over North Lanarkshire waterside town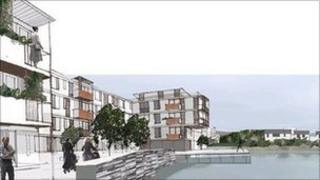 Scottish ministers are being asked to overturn a council decision to reject plans for a new waterside town on former industrial wasteland.
North Lanarkshire Council refused planning consent in December for Hazledene Group to pursue the project at Torbothie, near Shotts.
The £20m first stage would have seen about 120 homes built with long-term plans for a pier, cafes and shops.
The council said Hazeldene's proposal was contrary to the area's local plan.
The firm unveiled plans in December 2009 to build a £85m community at Torbothie around a man-made lake, known as the Voe.
Appeal grounds
After the first stage was completed, further developments would have added more than 1,000 new homes, with the aim of transforming the largely brown-field, derelict site into a self-contained waterside community.
Hazeldene estimates that full development of the 111-acre site would cost in the region of £85m and take between 10 and 15 years to complete.
The company believes the development would bring hundreds of new jobs to North Lanarkshire.
Chief executive Mark Shaw said the firm believed it had grounds for appealing the council's decision in that the area is a brown-field site.
He said the area plan referred to by the council does not address the specific needs of Shotts and Torbothie and this type of development was necessary to kick-start local investment.
Mr Shaw said: "Although my initial reaction as I left that planning hearing (in December) was to cut my losses and walk away I decided that I wasn't prepared to ditch what is an excellent development and something that would be welcomed by the local community just because of a lack of foresight and a flawed process.
"This is why we have taken this appeal to the Scottish government which has pledged to do its best to encourage investment and progress and to try to introduce 21st century thinking to some councils hobbled by 20th century attitudes to prevent development at any cost."