Judge to rule on legal arguments at Kevin 'Gerbil' Carroll murder trial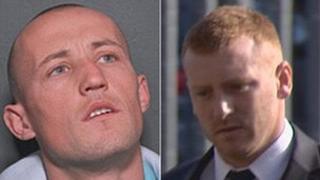 The judge in the Kevin "Gerbil" Carroll murder trial has told the jury he will rule on legal submissions about sufficiency of evidence on Thursday.
Ross Monaghan, 30, denies murdering Mr Carroll by shooting him dead at the Asda car park in Robroyston, Glasgow, on 13 January 2010.
He has lodged a special defence blaming eight men for the shooting.
Trial judge Lord Brailsford will rule on legal arguments which were made outwith the presence of the jury.
Advocate depute Iain McSporran, prosecuting, and defence QC Derek Ogg have been presenting their arguments on Tuesday and Wednesday.
Serious charge
At the end of their submissions, Lord Brailsford called in the jury and told them: "I have been hearing legal arguments and submissions from Mr Ogg and the advocate depute.
"I now have to make my decision and because of the importance of this case, I will write it up.
"My clerk will help me type it out because I can't type."
Lord Brailsford apologised for the time this would take, but added: "This is the High Court and this is the most serious charge a man can face."
The trial continues.