Jordan McCready, 17, admits murdering 13-year-old Jon Wilson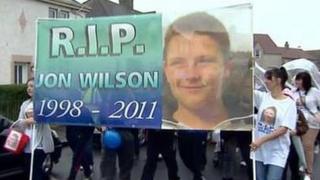 A teenager with a history of violence has admitted murdering a 13-year-old boy in Kilmarnock.
Jordan McCready, 17, from Dreghorn, attacked Jon Wilson as the youngster made his way home in the early hours of 4 September 2011.
The High Court in Glasgow heard McCready also slashed a stranger and robbed a teenager of his mobile phone after the killing.
He faces a mandatory life term when he is sentenced at a later date.
Prosecutor John Scullion told how Jon had been intending to stay overnight with a young friend on 3 September and called his mother to tell her.
CCTV footage
He eventually changed his mind and headed back to his home in Gateside Place, Kilmarnock, at about 02:15 the next morning.
Soon afterwards, CCTV footage showed him coming into contact with McCready - who had earlier drank vodka, Buckfast and taken valium pills - in the town's Queen's Drive.
Mr Scullion said there were no eye-witnesses to what happened during the attack, but at about 02:30 witnesses heard "coughing and spluttering noises" coming from the scene of the killing.
The prosecutor went on: "The deceased was positioned on his side. He was not breathing properly and his face was covered in blood."
The second year Kilmarnock Academy pupil was rushed to hospital suffering from significant head injuries.
He was found to have irreversible brain damage and died on 5 September.
The court heard that McCready contacted his parents and claimed he had "done something bad" and asked them to "keep a secret".
Police boasts
He also went to the home of his cousin Kevin Banks and told him that "we just pounded the life" out of someone.
McCready was eventually arrested and shouted to police: "If he gets out of intensive care, I'm going to murder him. I'm only 16. I'll do two year in Polmont for attempt murder."
When he arrived at the police station, McCready claimed he was "glad" he had "done him in" and that he had been owed money.
He also told how he had "jumped up and down on a boy's head".
McCready added: "We were walking to Asda, my pals seen him. I dragged him down a lane and battered the life out of him."
He also found to have kicked Jon so hard he had bruising to his own feet.
Mr Scullion said Jon's death had a "devastating impact" on the youngster's family.
McCready also admitted carrying out two other attacks in the hours after the killing.
He struck 40-year-old Gordon Paton with a bread knife after demanding he hand over his mobile phone.
Just 15 minutes later, McCready then robbed 17-year-old Jonathan McClung of his Blackberry phone after threatening to stab him.
Family tribute
It emerged McCready was convicted of assault to severe injury in August 2010.
The court heard he has previously been in residential care and had not stayed in the family home since December 2010.
Judge Lady Stacey deferred sentencing until 1 June at the High Court in Edinburgh.
Jon's aunt Irene Wilson paid tribute to her nephew at the time of his death describing it as a "total shock".
She added: "Jon spent most of his time playing with his Xbox. He didn't run in gangs or bring bother to his door.
"He was a generous boy and he would give you his last. He stayed in most of the time except when he was at his gran's."
Jon's death shocked members of the local community, many of whom took part in a march in his memory last October.