Four ferrets found dumped in box in Springburn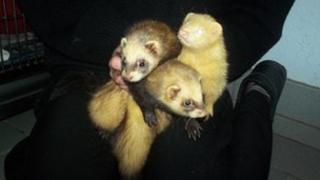 An animal welfare charity is trying to trace the owner of four ferrets which were found dumped in a box in Glasgow.
Members of the public called the Scottish SPCA after the box was found lying on the ground at the back of a block of flats in Springburn on Monday.
The three females and a male were taken to the charity's animal rescue and rehoming centre in Bothwell, which is caring for the females.
The male is being looked after at the charity's Glasgow centre in Cardonald.
Senior Insp Billy Linton said: "The ferrets were found close to Springburn Park in a wooden box with a wire top, which looked to have been made specifically for them.
'Good condition'
"The three females are all in season and as there was a male in the box with them there's a good chance that they could now be pregnant.
"Apart from being a bit smelly, the ferrets were thankfully in fairly good bodily condition."
Insp Linton said it was "very sad and frustrating" that the animals were abandoned.
"We cannot understand why anyone would think it's acceptable to just dump their pet outside with no consideration for their future," he said.
"These ferrets had no means of escape from the box so if they hadn't been found they could easily have died.
"We'd like to hear from anyone who recognises the ferrets and can tell us who owned them. Hopefully we will find them all good new homes with people who will take proper care of them."
Anyone with information is urged to contact the Scottish SPCA animal helpline.