Investigations after 'deliberate' fires at Pollokshields and Cathcart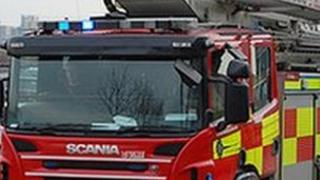 Police in Glasgow are investigating two separate fires which they say were started deliberately.
The first blaze broke out at about 05:20 on Friday at the home of an elderly couple in Old Castle Road in Cathcart. A wheelie bin was set on fire and put outside their kitchen window.
The second fire was started at about 16:00 in a close at a block of flats in St Andrews Drive, Pollokshields.
Two people were treated in hospital for smoke inhalation.
Following the Cathcart fire, an 84-year-old man and his 83-year-old wife were treated for minor injuries at the scene but did not require hospital treatment.
They were alerted to the blaze at their property after hearing a loud noise in their kitchen. They managed to escape and contact the emergency services.
Police said the fire spread up through the basement of their home to the kitchen.
Det Con Marc Kelly, from Cathcart Police Office, said: "It is beyond anyone's understanding why someone would deliberately set a fire to an elderly couple's bin and then place it outside their window.
"Thankfully the elderly gentleman and his wife have not been injured but obviously they are very, very upset that someone would do this to them and their home."
He appealed for anyone with information to come forward.
The fire at the flats in Pollokshields was set at the front door of a flat, police said.
A 43-year-old man and his 28-year-old partner were taken by ambulance to Glasgow Victoria Infirmary and released after treatment.
The couple had managed to make their way onto a balcony after becoming aware of smoke in the hall.
Det Con Peter Paterson, from Gorbals CID, said: "Thankfully neither of the people at home were seriously injured.
"However, I am very concerned that someone would blatantly set a fire in a common close in the middle of day with no thought to what the consequence might be, not only to the people in the flat affected but all the other residents of the block.
"I would like to appeal to anyone who was on St. Andrews Drive around 16:00 on Friday and noticed anything unusual or perhaps saw someone hanging around to contact us as soon as possible."