Two rescued from blaze at flats in Greenock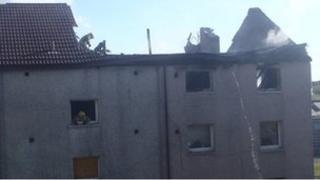 Two people have been rescued from a blaze which broke out in a block of flats in Inverclyde.
Firefighters wearing breathing apparatus removed the occupants from the second floor of the building on Berwick Road, Greenock.
The roof collapsed shortly after Strathclyde Fire and Rescue completed a search of the building.
Three people were taken to hospital for observation following the fire, which broke out shortly after 06:00.
The cause of the blaze will be jointly investigated by Strathclyde Police and Strathclyde Fire and Rescue's incident research and investigation section.