UCS work-in union legend Sammy Barr dies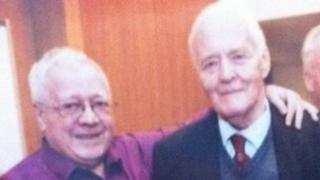 Former Glasgow shipyard union leader Sammy Barr has died at the age of 80.
Mr Barr - along with Jimmy Reid, Jimmy Airlie and Sammy Gilmore - led the successful work-in at the Upper Clyde Shipbuilders (UCS) in 1971.
The action effectively thwarted attempts by the Conservative government to close the yards
Mr Barr died of pneumonia at Glasgow's Beatson Oncology Unit on Monday. He is survived by his wife Janet and their children June, Brenda, Paul and Gary.
The shipyard work-in - organised by Mr Barr and his colleagues - was an alternative to a strike.
Policy change
It came after the new Conservative government insisted that shipbuilding should not rely on government subsidies, and refused to hand over more money to keep the UCS yards open.
The decision meant at least 6,000 of the 8,500 shipyard workers employed by UCS would have to be made redundant.
The work-in saw workers manage and operate the UCS shipyards until the government changed its policy. It was intended to prove that the yards were viable.
The UK government, led by Ted Heath, finally relented in February 1972 and announced a £35m injection of cash into the yards.
Within three years, shipbuilding on the Upper Clyde had received about £101m of public grants and credits, with £20m going to the UCS.