South Lanarkshire nursery worker admits sex abuse of toddlers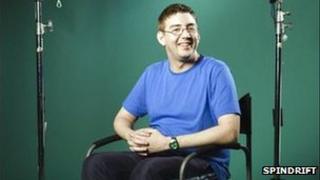 A nursery worker in South Lanarkshire has admitted sexually assaulting two toddlers enrolled at the child-care centre where he was employed.
Alexander Mortimer, 28, filmed and photographed the abuse of the children, who were aged two and three.
Mortimer was later found with almost 18,000 indecent images of children, described by police as "depraved".
At the High Court in Glasgow, sentence on Mortimer, from Rutherglen, was deferred for reports.
The first offender is now in prison having admitted a total of five charges relating to sexual assault of children and possessing indecent images of children.
The court heard that Mortimer was a full-time worker at a nursery in Lanarkshire having qualified in 2008.
Indecent photos
The offences he pleaded guilty to ran from January 2009 to January this year.
Prosecutor Alison Di Rollo told how Mortimer had offered to help look after the children.
In April last year, he began taking the children out sometimes on his own.
It was soon after he started taking indecent photos of the youngest of the pair - including at an Asda supermarket, at the home of his own cousin and at M&D's theme park in Strathclyde Country Park.
The court then heard how Mortimer sexually assaulted the boy on a number of occasions filming and photographing the abuse.
He also carried out a similar attack on the other child - again videoing what happened.
Miss Di Rollo said the home Mortimer shared with his parents and sisters in Rutherglen, South Lanarkshire, was raided in January this year.
Computer equipment was seized and a total of 17,967 still indecent images and 582 film clips were discovered.
The prosecutor described one of the videos and said: "The police indicate this is among the most depraved acts ever seen by the examining officers."
'Painstaking' investigation
The court heard the offences against the two boys came to light during "painstaking" police work involving the use of a forensic anthropologist.
Officers took photographs of Mortimer's hands after one could be seen in several of the images.
A number of similarities were spotted including a mole and scarring.
Mortimer also had a watch that resembled one in some of the indecent pictures.
Mortimer was questioned by police and claimed he had once carried out college work into child abuse for an essay.
He claimed that he may have "inadvertently" accessed certain sites for "research".
The court heard the children's family felt "very angry, upset and guilty" at what happened.
Miss Di Rollo said: "While neither of the boys has come to any know long term physical harm, the psychological effects on them cannot be assessed.
"The offences have also had a wider impact in the community. It has generated significant anxiety among parents of children who have been in contact with - or in the care of - the accused."
Miss Di Rollo asked the court for a risk assessment to be carried out on Mortimer - which could lead to an Order for Lifelong Restriction possibly being imposed.
'Escalating conduct'
The advocate depute said he had been guilty of an "escalating course of conduct" involving the "exploitation and abuse of children".
She told how the authorities held "additional information" which included Mortimer contacting parents - who had children at his nursery - via Facebook offering to babysit.
Judge Lady Stacey remanded Mortimer in custody and deferred sentencing until June at the High Court in Edinburgh.
Following his admission of guilt, Det Ch Insp David Marshall, of Strathclyde Police, said: "Alexander Mortimer has rightly been brought to justice today for a series of horrendous crimes against children.
"This follows an extensive investigation during which Mortimer consistently refused to co-operate with police, prolonging the agony for the families involved."
Det Ch Insp David Marshall said officers "acted swiftly" after they "received intelligence which identified that Mortimer was in possession of thousands of indecent images of children".
"Further investigations revealed he also had images of an unidentified man sexually abusing children," he said.
"Despite his refusal to co-operate and thanks to the determination and tenacity of the investigation team, we proved that it was Mortimer abusing the children."
Det Ch Insp David Marshall asked anyone with further information about Mortimer gets in touch with police.