Explosion trial hears accused 'knew alleged suicide bomber'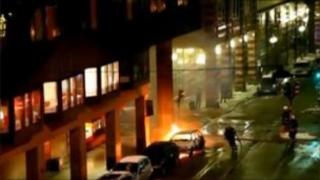 A man facing charges over an explosion in Stockholm knew the suspected suicide bomber, a court has been heard.
Mohamed Issa, 32, told the High Court in Glasgow that he worked with the accused, Nasserdine Menni, in England.
He said that he also met Taimour Abdulwahab - who was found dead in the Swedish capital in December 2010 - while in the company of Mr Menni.
Mr Menni denies being part of a terrorist conspiracy, along with Abdulwahab, relating to the explosion.
The court was told that Mr Issa worked with Mr Menni at Magna Seating UK in Bedfordshire where they both made chairs for vehicles.
He said he knew Mr Menni by the name of Emmanuel in work but outside of work called him Ezzedin.
Mr Issa, from Luton, said he started working with the firm in 2005 and that Mr Menni started after he did.
He then said he left in 2008 and Mr Menni was still working there.
Identification card
Advocate depute Andrew Miller, prosecuting, asked: "Did you know any of his friends outside work?" The witness answered: "I knew Taimour."
He was asked: "How did you know Taimour?" Mr Issa said: "I met him with him (Mr Menni)."
He added that he had met him once or twice.
The court was shown a Swedish identification card of Taimour Abdulwahab with a photograph on it and the witness confirmed it was the man he had met.
Mr Issa said after leaving his employment he kept in touch with Mr Menni every few months, then heard he had moved to Scotland.
Mr Menni is accused of acting with Abdulwahab to further terrorist aims by criminal and other means, including the use of explosive devices.
This offence is alleged to have been committed between 1 January 2003 and 8 March 2011 at addresses in Glasgow, England, Sweden, Syria and Iraq.
It is alleged that Abdulwahab detonated an improvised explosive device all with intent to murder members of the public.
The charge against Mr Menni, who had been living in Glasgow, has various claims including an accusation that he repeatedly communicated with Abdulwahab to discuss means by which to pursue the conspiracy.
Mr Menni is also said to have transferred money to an account in the name of Taimour Abdulwahab.
He denies the charges against him. The trial, before Judge Lord Matthews, continues.