Glasgow 2014 Commonwealth Games 'on target and budget'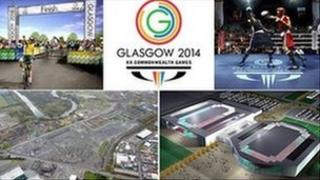 The 2014 Commonwealth Games in Glasgow is on track and on budget, according to the latest progress report.
The update highlights the opening of two venues - the refurbished Royal Commonwealth Pool in Edinburgh and bowling lawns at Kelvingrove, Glasgow.
The sports programme for the event has been confirmed and new sponsors have been announced.
The official Glasgow 2014 Tartan, designed by 15-year-old Aamir Mehmood from Glasgow, has also been launched.
According to the report, more than one million people took part in Commonwealth Day in March by wearing trainers to raise awareness of being active.
'Incredibly exciting'
Glasgow 2014 chief executive David Grevemberg said: "The past six months have seen the vision and ambitions of Glasgow 2014 start to become increasingly real and incredibly exciting.
"World-class venues are starting to emerge from building sites and across Scotland, thousands of people of all ages are starting to engage with the games in so many different ways.
"The pace is quickening and we look forward to sharing the next stage of a journey towards delivering an outstanding games of which Glasgow and Scotland can be proud."
The report shows that organisers spent £63m between 2007 and 2012 planning and preparing for the games, with a spend of a further £60m forecast between 2012 and 2013.
Sport Minister Shona Robison said: "This report shows the excellent progress in preparations for the Glasgow 2014 Commonwealth Games over the last six months.
"Milestones such as the reopening of the Royal Commonwealth Pool in Edinburgh and the launch of the official games tartan provide a glimpse of how hard work behind the scenes is being translated into a games that will showcase the best of what Scotland has to offer."