Strathclyde University technology hub secures £89m in European funding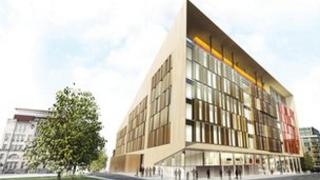 A new £89m technology centre is set to open in Scotland by 2014 after securing its final piece of funding.
The centre, at Strathclyde University in Glasgow, has been awarded £6.7m in European funding.
The facility will bring together academics and industry to work on new technologies in areas such as energy, engineering and pharmaceuticals.
Scottish government agencies are contributing £26m to the scheme, with the university supplying £57m.
The £6.7m funding is coming through the European Regional Development Fund (ERDF).
'Seeking breakthroughs'
Strathclyde University's principal, Professor Jim McDonald, said: "With our partners in business and industry, we are seeking breakthroughs to deal with energy demands, climate change, global health challenges, a testing economic climate and the need for more energy efficient, more advanced technology.
"The competitive advantage the centre will deliver, the inward investment it will attract and the valuable training the building project will offer apprentices will complement the economic benefits of Glasgow's Commonwealth Games in 2014."
Infrastructure Secretary Alex Neil added: "It is a substantial boost for our renewables industry that we have secured the final £6.7m that will enable this world class project to go ahead.
"I am sure this project can prove a real boost for our economy, securing massive research investment and hundreds of new jobs."