Christopher and Darren McLaughlin jailed for stabbing Kevin McCartney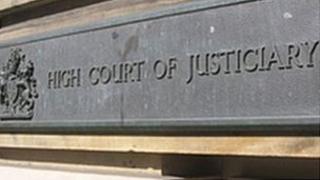 Two brothers who admitted stabbing their mother's partner after suspecting him of being violent towards her have each been jailed for four years.
Christopher McLaughlin, 26, and Darren McLaughlin, 23, attacked Kevin McCartney at his flat in Alexandria, West Dunbartonshire, in October 2010.
The High Court in Edinburgh heard they stabbed the qualified intensive care nurse a total of 13 times.
The 48-year-old later died due to "catastrophic" medical treatment.
The brothers, from Alexandria, originally faced a murder charge but had pleas accepted to the reduced charge of attempted murder.
Police called
The court heard how Mr McCartney and Isobel McLaughlin had spent the evening of 30 October 2010 drinking in a nearby pub.
They had an argument before returning to Mr McCartney's flat.
Mr McCartney called police in the early hours of 31 October to say Christopher and Darren McLaughlin were kicking the door of his flat.
The pair had earlier spotted marks on their mother's neck and thought Mr McCartney was responsible.
Once they gained entry to his flat, the brothers stabbed Mr McCartney.
He was initially taken to the Royal Alexandra Hospital in Paisley before being transferred to Glasgow's Southern General.
His condition worsened due to a perforation of the bowel that had not been spotted by medics at the hospital in Paisley.
On 9 November, it was discovered he had fluid on his lung. A particular type of chest drain was inserted where there was "very little margin for error".
The court heard that within minutes of this procedure, Mr McCartney collapsed and died.
Medical experts later reviewed what happened and one stated that the chest drain was "inappropriate".
'Terrible crime'
The Southern General also investigated the treatment and concluded there were "several missed opportunities" in how Mr McCartney was cared for.
A doctor from Edinburgh Royal Infirmary described the insertion of the chest drain as "catastrophic".
Passing sentence, judge Lady Stacey said: "You have pleaded guilty to a terrible crime and a custodial disposal is the only option available to me."
"There is very little that I can do that will reduce the grief of Mr McCartney's family."
The judge also ordered that the McLaughlins be supervised for two years following their release from jail.