Jon Wilson's murderer Jordan McCready given more jail time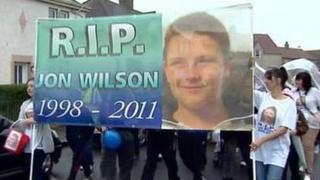 A violent teenager who battered a 13-year-old boy to death while out on bail has had six months added to his jail term for attacking two police officers.
Jordan McCready, 17, from Dreghorn, was jailed for life and ordered to serve a minimum of 14 years for killing Jon Wilson in Kilmarnock last September.
At Kilmarnock Sheriff Court, McCready was jailed over the police assaults.
The six month sentence was imposed by Sheriff Brian Murphy, who had given McCready bail before he killed Jon.
After McCready admitted the murder, it emerged that he had been freed under curfew five days earlier for assaulting two police officers.
Curfew order
The teenager appeared at Kilmarnock Sheriff Court on 10 August 2011, where he admitted repeatedly punching a special constable in the face, causing injury, and also punching a police constable.
At the time of the assaults on the policemen, McCready had also been subject to a curfew order and two separate bail orders.
His sentence was then deferred until 30 August 2011 for background reports and he was remanded in custody after bail was refused.
When he made his second appearance, Sheriff Murphy deferred sentence and granted defence solicitor David McSorley's request for bail.
McCready was freed on a 19:00 to 07:00 curfew, but he murdered Jon five days later.
A previous hearing at the High Court in Glasgow heard how McCready - who had been drinking vodka and Buckfast, and taken valium pills - attacked Jon near Queen's Drive as the youngster headed home from a friend's house in the early hours of 4 September 2011.
The second year Kilmarnock Academy pupil was taken to hospital suffering from significant head injuries.
He was found to have irreversible brain damage and died on 5 September.
McCready later boasted to his cousin that "we just pounded the life out of" someone.
Murder threat
When he was arrested, he shouted to police: "If he gets out of intensive care, I'm going to murder him. I'm only 16. I'll do two year in Polmont for attempt murder."
McCready also claimed he was "glad" he had "done him in" and that he had been owed money.
He also told how he had "jumped up and down on a boy's head".
McCready added: "We were walking to Asda, my pals seen him. I dragged him down a lane and battered the life out of him."
McCready also admitted slashing a stranger and robbing a teenager of his mobile phone after the killing.
He was handed a mandatory life sentence for the murder.