NHS Ayrshire and Arran criticised over serious incident report failures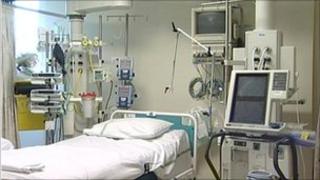 A health board which withheld reports on serious incidents is facing more criticism from NHS inspectors.
Healthcare Improvement Scotland (HIS) found significant weaknesses in how NHS Ayrshire and Arran handled critical incident and adverse event reports.
Ministers ordered the review after a staff complaint to the information commissioner revealed the health board had not released more than 50 reports.
These covered events at hospitals and clinics, including 20 patient deaths.
The chain of events unfolded after a nurse employed by the health board became concerned when he was involved in a critical incident, but never received a copy of the findings.
Probe ordered
Rab Wilson was told he was not entitled to read the report, and would have to apply under Freedom of Information (FOI) legislation.
When Mr Wilson did make an FOI request, he was told by the health board that the reports were exempt from disclosure because of patient confidentiality.
Realising that dozens of similar reports had also been withheld, Mr Wilson appealed to the information commissioner, who then ordered NHS Ayrshire and Arran to release anonymised versions of the reports.
Following the release of the reports, Health Secretary Nicola Sturgeon ordered an investigation into procedures at NHS Ayrshire and Arran by HIS.
The more serious incidents which emerged in the reports involved three missed chances to diagnose cancers; the death of a patient who was trapped in a faulty lift; a death which followed inadequate treatment of a leg wound; and two cases where psychiatric patients murdered or attempted to murder a relative.
Mr Wilson also asked Strathclyde Police to look at whether the health board deliberately covered up the circumstances surrounding the deaths of more than 20 patients.
No criminality was found, however, and the case has been closed.
HIS has now issued its findings into how NHS Ayrshire and Arran managed the reporting of "significant adverse events". Among the findings were:
a lack of clarity on the lines of accountability and reporting
complex and unwieldy clinical governance structures
confusion regarding staff understanding of their scope to share information
substantial shortfalls related to staff involvement, action planning and wider learning, and
weaknesses in decisions to undertake adverse event reviews.
Robbie Pearson, director of scrutiny and assurance for HIS, said: "During the review, we identified material weaknesses in the management of significant adverse event reviews and in sharing the lessons learnt.
"Many of the issues relate to document control and systems of governance. However, the review group felt that the more substantial shortfalls related to staff involvement, action planning and the dissemination of wider learning.
"We believe that implementation of our report's recommendations - both by NHS Ayrshire and Arran and the wider NHS in Scotland - will significantly improve patient safety and ensure we continue to learn from adverse events in order to minimise the risk of them happening again."
Following publication of the HIS report, Health Secretary Nicola Sturgeon said: "NHS Ayrshire and Arran will be taking forward actions to respond to the recommendations of this review as a matter of urgency and have already put in place a detailed improvement plan.
"It is vital that lessons are learned from adverse events in order to improve patient safety and the quality of healthcare services.
"That is why I have instructed that a national framework for the management of adverse events be developed for the first time. We need a consistent approach across NHS Scotland that supports a culture of openness, trust and service quality improvement."
Ms Sturgeon said that all health boards in Scotland must consider the recommendations from the report and HIS would check over the next year "to ensure that appropriate action has taken place".