James McInnes jailed for life for Kenneth Andrews murder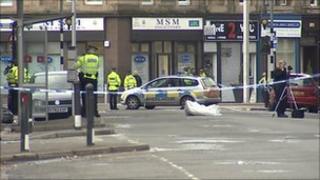 A man has been jailed for life over the murder of another man on a busy street in the east end of Glasgow.
James McInnes, 46, brutally stabbed 41-year-old Kenneth Andrews after the victim had argued with his mother.
He had denied killing Mr Andrews in Dalmarnock Road, near Bridgeton, last October, but was convicted of murder.
At the High Court in Edinburgh, judge Lord Brailsford ordered McInness to serve a minimum of 17 years before being eligible for parole.
The court heard that McInnes had been upset by the argument between his mother and Mr Andrews, from Bridgeton.
Public upset
When he encountered his victim, McInnes, also from Bridgeton, stabbed him four times.
The fatal blow severed a major artery and Mr Andrews died in hospital after suffering massive blood loss.
Jailing him for life, Lord Brailsford told McInnes the murder had caused "concern and upset" to people who witnessed the attack.
The judge said: "It was an attack on another person in a public street in front of commercial premises, shops and a takeaway restaurant, in broad daylight when there were members of the public going about their lawful business."
Lord Brailsford said he had to take into account "the serious level of violence used in this crime" as well as McInnes' previous criminal record.
The judge told him that he had "a very poor criminal record" which included violent crime, although more recently he had been convicted of drugs and dishonesty offences.