BAE Prestwick wins £15m RAF planes re-fit contract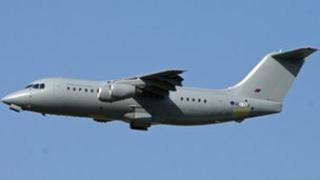 Two civilian planes are to be re-fitted for use by the Royal Air Force (RAF) in Afghanistan under a £15m contract awarded to BAE Systems in Prestwick.
The BAE 146 aircraft were bought for about £4m from Belgium's TNT Airways.
Re-fit work will be carried out by Hawker Beechcraft at Broughton in North Wales for delivery in March 2013.
The re-vamped planes will carry freight and people between Afghanistan and the UK, supporting the RAF's Hercules fleet which handles heavy lift requirements.
Turnover increase
The aircraft are already designed to be changed quickly between freight and passenger use, using a large back door.
Two BAE 146 aircraft are already with the RAF, as part of the Royal Flight based out of Northolt.
Mark Taylor, business director of engineering for BAE Systems at Prestwick, said: "We maintain at Prestwick a complete aircraft design engineering capability which is being increasingly recognised worldwide as a much sought after resource by major aircraft manufacturers.
"The addition of this new contract to the engineering portfolio will support a 33% increase in engineering turnover this year with further prospects in development."