Ellen Ruffle search: Garden excavation work draws blank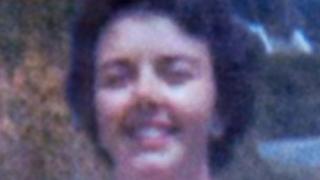 Police investigating the disappearance of a teacher 43 years ago say searches and excavation work at her former home have failed to find anything.
Mother-of-two Ellen Ruffle was last seen in November 1969, when she was aged 34.
Strathclyde Police have been carrying out hi-tech scans at the rear of a house in Annan Glade in Motherwell, as well as an "exploratory excavation".
However, officers said the search had "proved negative".
The police search has centred on the back garden of the property and a garage.
A specially trained team used ground penetrating radar equipment to scan the garden and part of the outdoor area of the property was excavated.
Ellen, known to friends as Evelyn, was last seen at her home on 14 November 1969.
Shortly after the disappearance her husband took the family to live in South Africa.
A police spokeswoman said: "This search has proved negative. An area within the rear of the property was subject to excavation however this has again proved negative.
"The property has now been handed back to the householder, and the police are grateful for the assistance and co-operation provided at this location."
The force added that further searches would be conducted in the immediate area over the coming days and weeks.