Lynda Spence trial: Four men deny torture and murder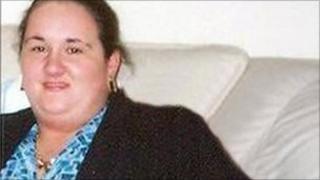 Four men have denied abducting, torturing and murdering missing financial adviser Lynda Spence.
The 28-year-old has not been seen since 13 April last year when she left her parents' house in Glasgow Harbour.
David Parker, 37, Paul Smith, 46, Philip Wade, 41, and Colin Coats, 41, were accused of the assaults and murder at the High Court in Glasgow.
Ms Spence, who used several aliases, ran a finance company, Fraser Developments, which arranged mortgages.
Shortly before she disappeared the firm got into difficulties resulting in several deals falling through and was thought to owe tens of thousands of pounds.
At court, the four men were all charged with murder, abduction including assault and attempting to defeat the ends of justice.
It is alleged that, over a two-week period, they assaulted Miss Spence at an address in West Kilbride by cutting off her fingers and a thumb, striking her with a golf club, scalding her with an iron and failing to seek medical attention before killing her and disposing of the body.
Plea rejected
Mr Wade and Mr Coats are also alleged to have sent threatening email and text messages to Miss Spence.
Mr Coats is also accused of attempting to extort £12,000 from a man by showing him a human thumb, stating it belonged to Miss Spence.
Mr Wade is also accused of attempting to defeat the ends of justice by threatening to put a bullet in the back of the head of a person he believed to be a prosecution witness and rip the head off another.
Mr Smith is alleged to have attempted to pervert the course of justice by trying to prevent two people giving statements to the police.
Mr Smith, Mr Wade and Mr Parker are also charged with being concerned in the supply of cocaine and cannabis resin, while Mr Smith is also accused of being concerned in the supply of heroin.
Mr Smith pleaded guilty to a reduced charge of assaulting Miss Smith, by detaining her against her will at Meadowfoot Road and lopping off her toes, the tip of a finger and a thumb and burning her with cigarettes and an iron, but the plea was rejected by the Crown.
Judge Lord Turnbull continued the case until 27 July at the High Court in Edinburgh.
No date has been set for the trial which is estimated to last from four to six months.