Plaque marks pioneering Kilmarnock and Troon railway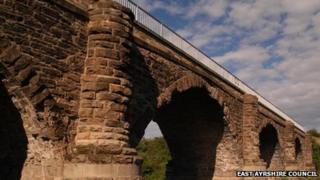 A specially designed plaque has been unveiled in Ayrshire to commemorate the first-ever railway to carry passengers in Scotland.
The Kilmarnock and Troon railway was opened in 1811 and primarily carried coal from Kilmarnock and Troon Harbour.
Passengers initially travelled in horse-drawn carriages before the line became the first in Scotland to use a steam locomotive.
The plaque was unveiled at the Laigh Milton Viaduct on Friday.
Professor Roland Paxton of the Institution of Civil Engineers (ICE) in Scotland designed the plaque.
Town development
He said: "When it was officially opened in 1812, the Kilmarnock and Troon Railway was state-of-the-art and it contributed significantly to the development of both towns.
"By the late 1830's it was being used for as many as 200,000 passenger miles every year.
"It was also one of the earliest to use steam locomotion, nine years before the opening of the Stockton and Darlington Railway.
"The Leigh Milton Viaduct is the world's earliest public railway viaduct which was conserved for posterity in 1996."