Cash seized from convicted sex trafficker Stephen Craig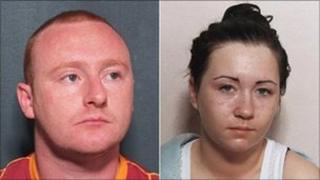 The first man to be convicted under new sex trafficking legislation in Scotland has been ordered to hand over £45,000 under proceeds of crime laws.
Stephen Craig, 34, from Clydebank, was jailed for 44 months last year after admitted moving 14 men and women around the UK for sex between 2009 and 2010.
His co-accused Sarah Beukan, 22, from Edinburgh admitted the same offences and was jailed for 18 months.
They were arrested after a joint operation by Scottish and Irish police.
Craig and Beukan were the first to be charged under section 22 of the Criminal Justice (Scotland) Act 2003, legislation designed to deal with a range of offences involving "traffic for prostitution".
Rented flats
They were caught after travel documents, internet and newspaper advertising, telecoms evidence and pre-paid credit cards which linked them to each other and key witnesses - who were sex workers - were found.
A previous hearing at Glasgow Sheriff Court heard evidence that Craig and Beukan were involved in running prostitution from addresses in Glasgow, Aberdeen, Edinburgh, Belfast, Cardiff and Newcastle.
The "most significant" sources were accounts provided to police by prostitutes recruited to the criminal operation by Craig.
After being employed by Craig they were housed in the various modern flats rented by him for the purpose of prostitution.
In each flat, at least two or three prostitutes would work charging approximately £150 for an hour and £90 for half an hour.
Craig would then take a percentage - £30 for every half hour and £40 for every hour in relation to each client.
It was heard that outside Glasgow, money would either be brought back with prostitutes and given to Craig or transferred by pre-paid credit cards.
Accounts were given to the police by a Bolivian woman and a Belfast woman studying medicine at a top Scottish university, who turned to prostitution after experiencing financial difficulties.
It was also heard that a mobile phone was kept in each house and used to place more than £54,000 of adverts, which was set up and paid for by Craig.
After being jailed, Craig was made the subject of proceedings under the proceeds of crime act after making money from his part.
Criminal operation
A hearing at Glasgow Sheriff Court on Tuesday was told Craig's benefit from general criminal conduct was £236,651.
Sheriff Charles McFarlane QC granted a confiscation order for £45,000 to be paid within six months.
Speaking afterwards, Lindsey Miller, the Crown Office's head of serious and organised crime division, said: "Stephen Craig took part in a criminal prostitution operation that spanned the United Kingdom.
"His conviction, along with that of his co-accused Ashleigh (Sarah) Beukan in September last year, was a landmark case for human trafficking in Scotland.
"Today's confiscation order for £45,000 represents the full amount which is available to us at this time from Stephen Craig."
Det Insp David Perrit, of Strathclyde Police major crime and terrorism investigation unit added: "Today's confiscation order sends a strong message that crime does not pay and clearly shows those who think they can make money from their criminal activities that the law will catch up with them."