New Glasgow HQ for Scottish Power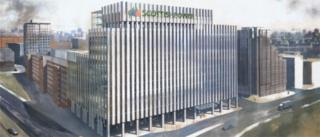 Energy firm Scottish Power is to build a new 14-storey headquarters in Glasgow city centre housing about 1,500 staff.
Work on the office complex, located on the corner of St Vincent Street and India Street, will start in 2013 with completion targeted for late 2015.
It will replace other office locations in Falkirk, and Glasgow.
The site was previously home to the former Strathclyde Regional Council. In 2008, a planned skyscraper project was dropped after the financial crisis.
Scottish Power said that Helical Bar, with Scots-based partner Dawn Developments, was the preferred developer for the new building.
It is understood that the project is worth about £80m, with Scottish Power agreeing a 25-year lease agreement to occupy the new complex. The energy firm already owns the land.
The 220,000 sq ft complex, which will overlook the M8 motorway and Kingston Bridge, will replace current office locations in Falkirk, and Cathcart and Yoker in Glasgow.
Investment hub
Scottish Power is also closing an office in Bellshill, North Lanarkshire, and expanding from one office in Hamilton Business Park to two blocks.
The energy firm said the new building in Glasgow would act "as a hub for delivering the significant planned UK investment over the coming years".
Ignacio Galan, Scottish Power chairman, said: "Our plans in the UK in the coming years require an office complex that is fit for purpose to deliver and manage these investments.
"Following the integration between Iberdrola and Scottish Power in 2007, we have invested £4bn in the UK and made a commitment that Glasgow would remain as the central location for our company in the UK.
"This new development will ensure Glasgow remains home to Scottish Power's UK headquarters for the long term and will be a hub for delivering the £10bn of planned investment over the coming years."
The firm's chief corporate officer, Keith Anderson, added: "We currently have an ageing office portfolio that is no longer suitable to match the growth in our business, particularly in renewable energy, engineering, traditional generation and expanded customer offering.
"Our new office will be modern and functional, and will bring together many Scottish Power people from across the business to be located in a single central site."
The site on which the new building will stand was previously part of the headquarters of Strathclyde Regional Council.
The authority was abolished following local government re-organisation in 1996.
Plans emerged in 2004 for a £120m project to construct Scotland's tallest building at the site.
The aim was to have a 134m high, 39-storey tower complex, containing a mixture of retail space, offices, a swimming pool and housing.
Developers Elphinstone announced in July 2008 that the project - called Elphinstone Place - had been dropped amid the ongoing financial crisis.