Gregg McKissock jailed for throwing George Thomson from bridge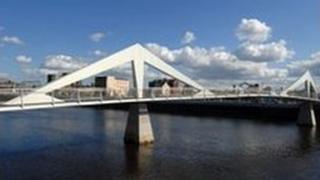 A man who threw a non-swimmer into the River Clyde in central Glasgow has been jailed for six years.
Gregg McKissock, 30, dropped 24-year-old George Thomson into the water from the Tradeston Bridge - known locally as the Squiggly Bridge - in January.
Mr Thomson, who had been in McKissock's company, required hospital treatment after suffering severe hypothermia.
McKissock was jailed at the High Court in Glasgow after being convicted of attempted murder last month.
The court heard that there had been "no animosity" between the men leading up to the incident.
Freezing water
Mr Thomson recalled being grabbed and "tossed into the Clyde".
He battled to stay afloat before being hauled from the freezing water and rushed to hospital.
A casualty doctor told the trial how it took a number of hours to raise the victim's body temperature and that his life had been in danger.
It later emerged father-of-one McKissock, from Glasgow's Knightswood area, had had numerous previous convictions for assault.
Jailing him, temporary judge Sean Murphy QC, told McKissock: "This incident can only be considered to be a very dangerous matter.
"Mr Thomson could not swim and he was a vulnerable young man. The temperature and conditions were such that he could have died because of hypothermia.
"This was so reckless that a considerable custodial sentence is inevitable."