Search ends for missing off Dumfries and Galloway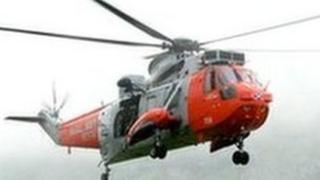 A search has been called off for a diver who failed to return to a boat off the coast of Dumfries and Galloway.
The alarm was raised just before 16:00 on Monday. The dive boat was about 10 miles north of Corsewall Point.
Clyde coastguard said that the Girvan lifeboat, the Campbeltown lifeboat and rescue helicopter 177 from HMS Gannet at Prestwick had all been taking part in the search.
Fishing vessels in the area had also given their assistance.
It is understood the diver was a 37-year-old from the Hampshire area.
The Marine and Coastguard Agency's coastal safety manager Bill Speirs said the water was calm and a thorough search had been carried out.
"All the vessels congregated in the area and commenced a search of the surface to see if the diver had come to the surface but had not actually been spotted by the dive boat and was drifting on the surface," he said.
Mr Speirs said divers from the dive boat had checked the sea bed.
"Unfortunately there was no sign of him and there was no sign of him on the surface either," he added.