Merchant City Festival under way in Glasgow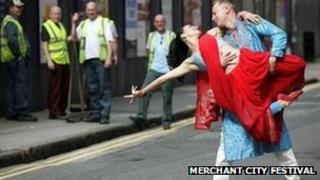 A family street party is under way in Glasgow to mark the start of the annual Merchant City Festival.
About 300 events are being staged across 75 venues until 29 July as part of the festival, which is now in its 11th year.
Last year's event attracted more than 90,000 attendances.
This year's festival has a games theme to reflect Glasgow's status as an host city for eight football matches for the 2012 London Olympic Games.
Glasgow City Council leader Gordon Matheson said: "The Merchant City Festival embodies everything I love about Glasgow.
"It is ambitious, diverse, exciting and fun. It provides opportunities for those who think art might not be for them to get involved and give it a go.
"If you've been in the Merchant City during the festival you'll have experienced the fantastic music, culture and artistic passion, which are a reflection of the brilliant arts organisations and venues our city has to offer."