Greenock Watt Library discovers literary 'treasure trove'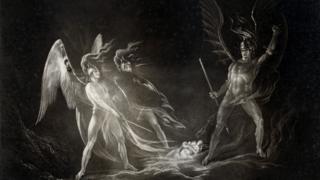 A literary treasure trove has been discovered in a hidden cupboard at a library in Inverclyde.
The rare book collection was discovered by archivist Neil Dickson at Greenock's Watt Library.
It includes a 1538 edition of letters by Roman philosopher Cicero and an 1827 illustrated edition of John Milton's Paradise Lost - one of only 50 copies.
The collection will be on display at the McLean Museum, Greenock, on Saturday between 12:00 and 16:00.
'Absolutely stunned'
The display is part of a wider, free-to enter exhibition during BBC's Great British Story event.
Mr Dickson discovered the hidden cupboard behind an old plan chest while working his way through the archives at Watt Library.
He said: "I couldn't believe my eyes when I saw the cupboard which obviously hadn't been opened for twenty, thirty years or longer.
"I was absolutely stunned when I realised what was inside - I have never seen such a collection of books in one place and certainly not under these circumstances.
"I am sure the find will be of enormous interest."
As well as books dating back to the 1530s, the collection includes 17th and 18th century volumes on surgery, witchcraft and exploration.
The 1827 edition of Paradise Lost features illustrations designed and engraved by the artist John Martin.
Inverclyde Council's education convener Councillor Terry Loughran said: "This really is an incredible find and one that will be talked about in literary circles up and down the country and beyond.
"As well as books that are nearly 500 years old, there is also a 19th century Hamnet edition of Shakespeare's plays published in Greenock and edited by the then librarian of the Watt Library, Allan Park Paton.
"It is testament to the long traditions of academic excellence in Greenock that such a collection found its way to the Watt Library over the years and I look forward to finding out more about the circumstances and history of the find."