Glasgow's Merchant City Festival attracts 95,000 people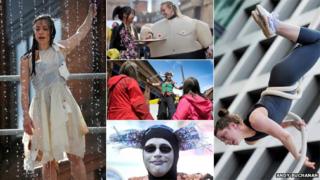 Organisers of Glasgow's annual Merchant City Festival are hailing another "successful" year after 95,000 attended over the weekend.
The event started on Friday with a street party and closed on Sunday when a 65ft (20m) tower, made from 1,150 cardboard boxes, was brought down.
In total, about 300 events were staged across 75 venues.
Glasgow City Council leader Gordon Matheson said the 11th festival had delivered an "incredible programme".
"We promised the most ambitious, wide-ranging, colourful and inclusive festival ever to be staged in Glasgow's Merchant City," he said.
'Tangible buzz'
"To ensure this we worked with the wealth of cutting-edge arts organisations and venues based in the city and we brought several Scottish premieres and specially commissioned performances to Glasgow.
"An incredible programme and the good weather we've enjoyed over the last few days have created a tangible buzz across the city's cultural centre."
Councillor Matheson said the 95,000 people estimated to have attended events had generated "a significant economic benefit for the city".
"I'm confident that word of mouth will ensure this festival continues to grow, in keeping with our vision that it will form a key part of the cultural offering for visitors coming to Glasgow for the Commonwealth Games in 2014," he said.
A celebration of Glasgow's standing as an Olympic city - which started last week - will continue until 3 August on the 2012 Experience stage.
This will show all of the men's and women's football games taking place at Hampden with music and films being shown on other days when no matches are being played.