Manson and Kray letters to be auctioned off in Glasgow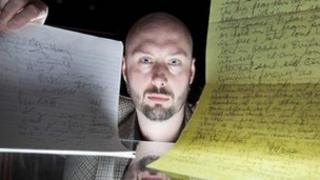 Items belonging to some of the world's most notorious criminals are to go on auction in Glasgow later this month.
The collection of 'murderabilia' includes letters from the East End London gangster, Reggie Kray, and American cult leader and convicted murderer, Charles Manson.
The documents have been put up for sale by crime author Steven F. Scouller.
The sale will take place at McTear's Auctioneers on 16 August.
Murderabilia is the name given to items connected with murders, murderers or other violent crimes.
Coded letter
Mr Scouller, who is a renowned collector of murderabilia, said: "I believe that letters by such people as Charles Manson and Reg Kray should be preserved so future generations can study them in a bid to help understand the terrible decisions these criminals made."
The letter from Reg Kray is a diary of ideas and orders for 'Kray Firm' gang members to carry out and is written in code to deter detection by authorities.
The 20-page document states: "Go to work for the fee. I'm so proud of all you've achieved," and is signed off at the bottom with "Take care, God bless, affection, yours Reg."
In the Charles Manson letter, the infamous cult leader rambles almost incoherently about his relationship with 'Manson Family' members.
In the bizarre document, Manson states: "It can be used as the people in the so-called Family used me; by giving me their problems…all I did was give them the answers…You see them singing my music and dancing my motions.
"That's how I've survived all my life by staying on top of my end."
Considerable interest
Brian Clements, managing director at McTear's, said: "These are very unusual items that give an insight into the minds of two of the world's most notorious criminals.
"It is rare to find detailed letters like these coming to auction and I expect there will be considerable interest in the sale."
The auction will take place on Thursday 16 August at McTear's Auctioneers in Glasgow.